A Romantic Escape to Pristine Shangri-La
China Today by WANG SHUO, February 7, 2017

Adjust font size:

Enjoy Inner Peace

Guests at the Songtsam hotels are always amazed at the wide range of Tibetan-style ornamentations and furniture displayed in the lobby, restaurants and guestrooms.

In fact, many of them are private collections belonging to Baima Dorji. When asked why he puts these precious items in the public area where they could easily be damaged, Baima explained: "Those items will feel 'depressed' if they can't be appreciated by people over time." To his mind, the value of his collection is to share them with people.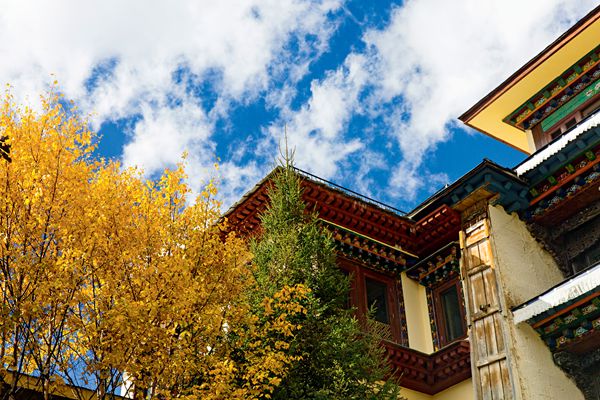 Autumn-hued trees in the Songtsam Shangri-La (Lügu) Lodge yard.
To best preserve the original looks of the villages and natural environment, Baima insisted on the most traditional type of construction. He hired local carpenters, stonemasons and coppersmiths. When building the Songtsam Linka Retreat, Baima found a very good coppersmith. He had considered changing his profession to relief sculpture as it is more profitable. "I told him that I would employ him for as long as he wants to work," said Baima. "Now we have five of our own coppersmiths. They made all the copperware in the hotels, from basins and pots to door bolts."
Baima also cooperates with local handicraftsmen by taking hotel guests to the workshops where they make black pottery, so to boost development of local craftsmanship.
Baima pointed out that today many people have a limited understanding of the essence of Tibetan culture. For example, color paintings. "Some Tibetan families spend a huge amount on home decoration, but what they buy are showy, superficial decorative paintings." Baima said frankly that some art traditions were lost and abandoned during the "cultural revolution" (1966-1976). "As a matter of fact, the Tibetan culture respects introversion and solemnness," said Baima.
In order to show people authentic Tibetan culture, Baima personally modulated the colors for several paintings in the Songtsam hotels. He blended the colors by imitating the tone of hundreds of old paintings that he collected in Tibet.
Born in a small village, Baima understands the importance of education. Since 2005, he has given financial support to children in his home village for their education. Moreover, he has helped local children to attend school in areas where Songtsam hotels are located. The allocation is RMB 500, RMB 1,000 and RMB 2,000 per year for a middle school student, a high school student, and a college student respectively. "Life is a long journey," Baima said, "and helping others will make it more meaningful."
Today, over 98 percent of the employees at the Songtsam lodges are from the locality. "They treat the guests as their friends, which is in line with their belief that a close relationship should be formed among people. I think their emotions and beliefs touch the inner world of our guests," said Baima.
Along with the development of the business, Baima has found that his lodges are "needed by people." People under pressure can always feel at home at Baima's lodges to rest their bodies and souls.
Shangri-La represents a place of purity in people's hearts. However, for Baima, who grew up here, it is a home that makes every resident and visitor of this land happy.
"My hope is that one day I can pick up my camera again to make some documentaries about Tibet, and share the Tibetan culture with more audiences," said Baima.
WANG SHUO is a reporter with China Pictorial.