A Romantic Escape to Pristine Shangri-La
China Today by WANG SHUO, February 7, 2017

Adjust font size:

Breathtaking View

The operation didn't go well at first, due to cashflow problems. Baima invited professionals from Germany and Austria to help, but to no avail.

In 2003, Baima decided to run the hotel himself. He stayed there and shared with his workers his ideas about a cultural experience. Baima also hired locals who were able to introduce Tibetan religion, culture and history to guests. "I want my guests to experience local culture and enjoy living closer to nature," said Baima.
Songtsam Meili Lodge, hidden in a small Tibetan village, all of whose windows offer imposing views of Minling Mountain.
The increasing fame of the hotel attracted many investors, but Baima turned them down: "I knew I was not ready to introduce capital at that time." Diqing is where the three rivers – Jinsha River, Lancang River, and Nujiang River – run parallel and create breathtaking scenery. Baima believes the tourist resources in Diqing are rare and precious. "I didn't open the lodge to make money. Unless I have a suitable plan to develop it, I'd better not. Better to leave it to offspring."
Baima spent almost a decade on research and experiments, but never pursued aggressive expansion or heavy publicity. In 2006, Baima met a partner who shared similar thoughts and they made their plan. In 2009, the Songtsam Linka Retreat, a watchtower-style building which sits on the mountain slope opposite the Ganden Sumtseling Monastery, opened. Since 2011, the four Songtsam hotels in the hinterland of Diqing opened one after another.
In handpicked locations, all lodges enjoy beautiful natural settings. Combining stays at different lodges, one can form a circuitous trip with Songtsam Linka as its center. "We hope that our hotels are like the courier stations in olden times where visitors can stay for a rest and enjoy different views at each lodge."
Departing from the Shangri-La Lodge, it takes about one hour's drive to Benzilan Lodge, which lies along a stretch of the Jinsha River. Benzilan Lodge was established in a small village hidden in the valley, and houses only 10-odd families. A sandstone road connects it with the outside world, but in history it was a stop along the Tea-Horse Trail. The windows of the lodge rooms face gorgeous views of a mountain pass and under the windows is cropland belonging to local households.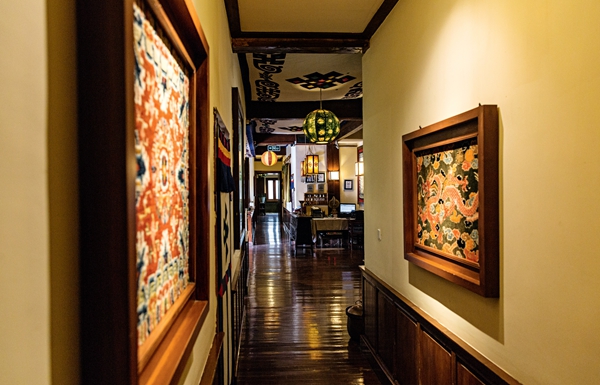 Songtsam Shangri-La (Lügu) Lodge features a wide range of Tibetan-style ornamentations and furniture, including wooden cabinets, figures of Buddha, Thangka paintings and tapestries.
Leaving the Benzilan Lodge and climbing the Baima Mountains, visitors soon reach Deqen County beside the Lancang River. There they can appreciate the imposing views of Minling Mountain. The Song-tsam Meili Lodge enjoys a superior location as all its windows directly face this magnificent snow mountain which is sometimes covered by cloud and mist.
Further south along the Lancang River Valley is the Cizhong Catholic Church, built by French missionaries in the early 1900s. The Songtsam Cizhong Lodge is only 200-odd meters from the church. Through the window can be seen several vineyards hidden in the mist. As the Catholic missionaries introduced grape cultivation and winemaking to this village, almost every household here grows grapes on this land at an elevation of over 3,000 meters that produce delectable wine.
It takes about four hours to drive from Cizhong to Tacheng Town, where there is a famous scenic spot – Bodhidharma's Cave. The Songtsam Tacheng Lodge is ensconced among the villages, terraced fields, mountains and rivers here.