A Romantic Escape to Pristine Shangri-La
China Today by WANG SHUO, February 7, 2017

Adjust font size:

Morning in Shangri-La features bright sunshine and a blue sky. Songtsam Shangri-La (Lügu) Lodge sits just between the Ganden Sumtseling Monastery and a small village called Kainag. In the yard is a four-storey Tibetan-style building where Baima Dorji was born and grew up. Today, he has built his home into one of the best boutique travel lodges in China.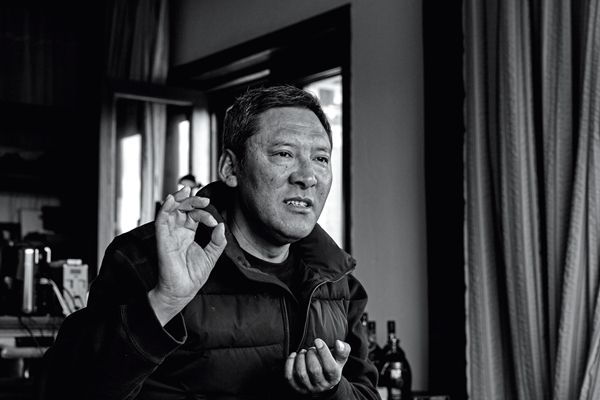 Baima Dorji built his home into one of the best boutique travel lodges in China.
The hotel, opened in 2001, is the first Songtsam lodge Baima set up. The hotel chain has six lodges, all in Diqing Tibetan Autonomous Prefecture of Yunnan, and in 2017 new hotels will be launched in Li-jiang and Lhasa.
Baima displays much hand-made Tibetan furniture, as well as handicrafts and decorations in his hotels. He said that at first, he just wanted to make the hotels a medium to introduce Tibetan culture to the outside world. "As the operation continued, I realized that I wanted to make my hotels a spiritual haven rather than just an exhibition center," said Baima. He understood what urban residents longed for, and wanted to create a place for them to enjoy fresh air. "People come here to escape from pressure and fierce competition in their busy city lives."
Introducing Tibetan Culture
Baima is in fact a newcomer to the hotel industry. He studied veterinary medicine at a vocational school in Kunming, capital city of Yunnan, and worked as a veterinarian in his hometown for two years. At that time a local TV station had just been established. Baima became interested in the sector, so started to learn TV program production. He got an internship at the Yunnan TV Station, that gave him the opportunity to study at the Beijing Film Academy.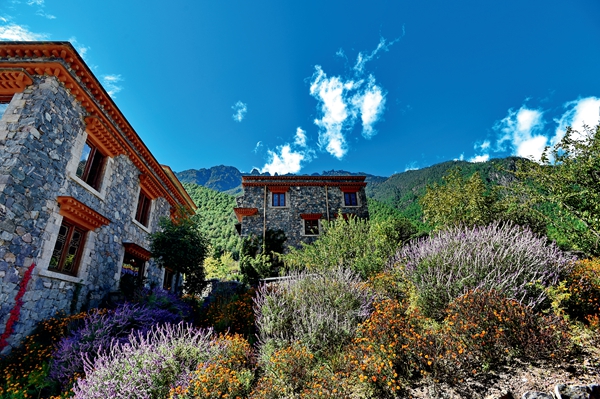 Songtsam Cizhong Lodge beside the Lancang River is adjacent to the famous Cizhong Catholic Church. Yu Xiangjun
After leaving the Tibetan-inhabited areas, Baima found that many people didn't understand, or even misunderstood Tibetan culture. "Many of my friends thought the Tibetan-inhabited areas were full of snow mountains with eagles flying above and that the Tibetan people were boorish, but that is not true," said Baima. "Many Tibetans are also introverted and reserved."
He suddenly got the inspiration to make TV programs to facilitate mutual understanding between Tibetans and people of other ethnic groups. In 1992, Baima worked at China Central Television (CCTV), where he made documentaries on Tibetan culture that were very popular. Among them the Dashan de Xiaoxiang (literally meaning "the image of the mountain"), made in 1998, was selected for the Cannes Film Festival. It told of a traditional village in a mountainous area of Yunnan Province.
When working at CCTV, Baima kept studying and became clearer about what he wanted to do. He planned to set up a platform to better introduce the Tibetan culture, and so enhance mutual understanding among different ethnic groups.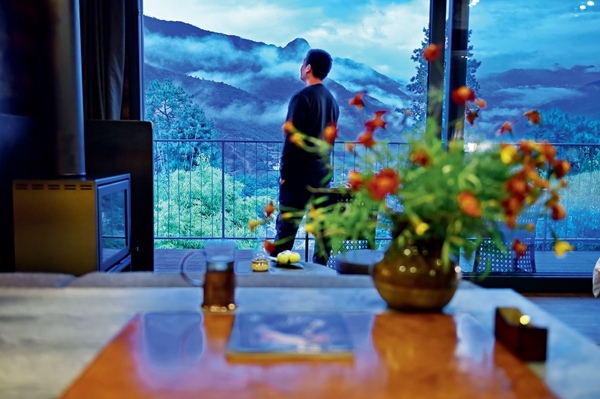 Songtsam Tacheng Lodge is beside flourishing vineyards and faces green croplands.Yu Xiangjun
At that time, Baima's colleagues often complained about the poor accommodation at Diqing Tibetan Autonomous Prefecture where Baima's hometown is located. Baima immediately thought of the many boutique travel lodges in Paris, having stayed in one near the Arc de Triomphe. He started thinking about transforming his home, which consists of two yards and occupies an area of over 1,000 square meters, into such a hotel.
In 2001, Baima rebuilt his houses into the Song-tsam Shangri-La (Lügu) Lodge, which had 22 rooms. The same year, Zhongdian County in Diqing was officially renamed Shangri-La.