Luoyang: Capital for Millennia and City of Peonies
China Today, February 8, 2017

Adjust font size:

Luoyang, in central China's Henan Province, was named in honor of its situation north of the Luohe River – a tributary of the Yellow River. In ancient China, such a location, or one at the southern foot of a mountain, was deemed to be yang (meaning the sunny side as opposed to yin). Luoyang was thus named. 

For the Chinese nation, the Yellow River is more of a fountainhead than a river, and Luo-yang, a focal point along it, a birthplace of Chinese civilization. Many dynasties after the Xia Dynasty (c. 2070-1600 BC) established their capitals in Luoyang. Historical records also show that 100 or more emperors, including the most famous and sole woman ruler Wu Zetian (624-705), or Empress Wu of the Tang Dynasty (618-907), built imperial courts and established regimes there. Luoyang, along with Xi'an, Nanjing, and Beijing, was hence one of China's four ancient capitals.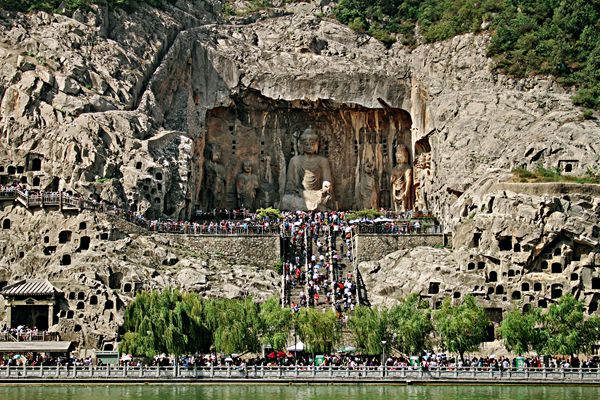 Luoyang's Longmen Grottoes – one of the finest examples of Chinese carved stone Buddhist art – was listed as World Cultural Heritage in 2000.
Luoyang, once the political, economic, and cultural center of China where the Heluo Culture had developed, was regarded as the headstream of Chinese civilization. It was in Luoyang that China's earliest historical documents, the Hetu and Luoshu, were unearthed. 
In ancient times, Luoyang was the transportation hub of road networks extending in all directions. In the Eastern Han Dynasty (25-220), Luoyang was the starting point of the Silk Road leading to the eastern Mediterranean coast. Later it formed with the Grand Canal, cut in the Sui Dynasty (581-618), a 2,000-km-long north-to-south water transport network. Owing to its pleasant climate and four distinct seasons, Luoyang is world-renowned for its peonies and two world-class geological parks.