A Car-lovers' Paradise in Fengtai
China Today,September 13, 2017

Adjust font size:

An Enthusiastic Latecomer

China, we are assured, was one of the earliest countries to have introduced wheels; and so from a history of wheels, we are led to specimens of horse-drawn carriages from ancient times. For instance, there's a model of the Yellow Emperor's South-pointing vehicle. Unlike a compass which uses a magnetic needle, a south-pointing vehicle was based on the principle of differential gears. No matter where the wheel turns, the figure on board always points south. Also on display is a working model of perhaps the world's first odometer. During the Han Dynasty (206 BC - AD220), this device travelled in a cart with the emperor's caravan. Two ornate figurines were mounted next to a drum; the gears turned and, every 500 meters, one of the figurines beat the drum.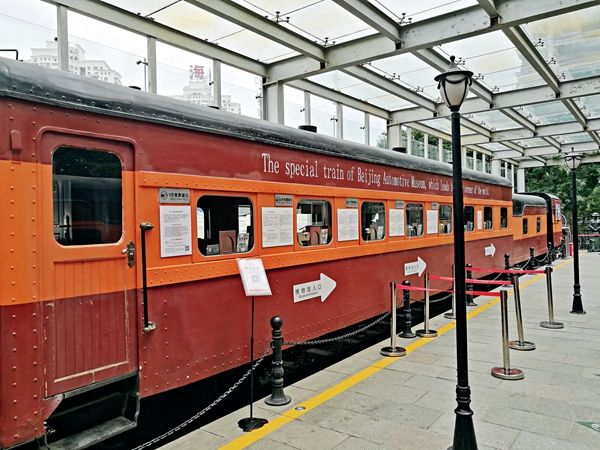 The ticket office is in an 1898-vintage train.
After this, one moves on to what probably everyone has come to this museum to see – real vintage cars (albeit with a few reproductions). Among the authentic vintage cars are a Rolls Royce Silver Ghost Coupe, and an Oldsmobile Curved Dash which was built in 1902 and still, we are told, works over a century later.
A few years earlier – in 1885, to be exact – the world's first petrol-driven automobile put in an appearance. It was widely ridiculed because it went even slower than a horse drawn carriage. The Benz Patent Motor Wagon on display is a replica of an original in Stuttgart. To convince the public of the vehicle's capability for travel, inventor Karl Benz's wife Bertha drove it 106 km to visit her parents, becoming the world's first female driver, and making the first long-distance road-trip at one and the same time. As they say, the rest is history!
Moving forward to 1906 and a French classic – a De-Dion Bouton. In the first ever Beijing to Paris rally, held in 1907, only five cars made it to the finish line, two of them being De-Dion Boutons; and then in 1908 the Ford Model T came into being. At first they were all manufactured in the traditional way and sold for around US $850. But in 1931 Henry Ford had the idea of creating an assembly line – a world first. Output increased dramatically and the price fell to as low as US $265. The age of cheap mass transport had arrived.