Pioneer of Medical Model Reform
China Today, February 8, 2017

Adjust font size:

Social development and technological progress, as well as changes in the natural environment and lifestyles, have spawned a host of hitherto unknown chronic maladies and illnesses that erode human health. As existing mainstream medical models cannot meet the demands of contemporary disease prevention and treatment, medical and healthcare reforms are now imperative.   

Professor Jiang Geli, the first medical practitioner in the People's Liberation Army (PLA) with a PhD in Chinese acupuncture, has brought to bear his benevolent, sagacious and analytical reasoning in a thoroughgoing examination of current medical models. After years of research and practice, Professor Jiang has made a significant contribution to human medicine through his introduction of humanistic holistic medicine – the medical mode that meets the demands of 21st-century healthcare.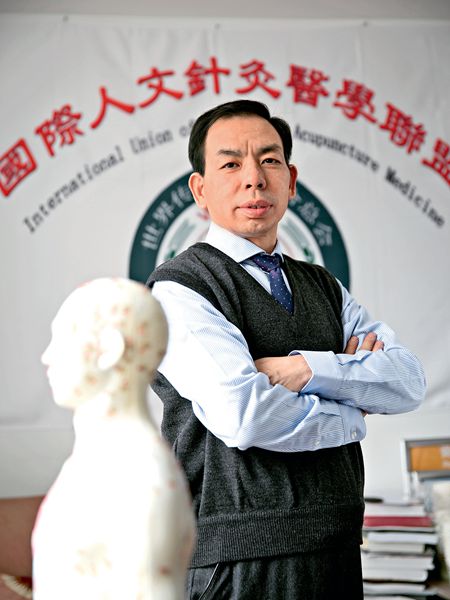 Jiang Geli is the director of the PLA TCM and acupuncture center. 
China Today (CT): As an expert practitioner of traditional Chinese medicine (TCM) with doctorates in medical science and philosophy, you have opened up a new realm of medical science by virtue of a humanistic holistic medical model perfected on the basis of your vast knowledge of human science, philosophy, deep insight into Chinese and Western medicine, and decades of clinical experience. What was your original intention in creating this new model?      
Jiang Geli: It was no sudden inspiration or epiphany. Rather, the humanistic holistic medical model evolved over the course of my life and three decades of experience as a medical practitioner. Diverse academic approaches, advances in healthcare, theoretical medical innovations, and technological developments over the past decade all laid the foundations on which to establish my theory.         
Hardships during childhood sharpened my tenacity. I grew accustomed to assuming responsibility for my family, and later society as a whole, having witnessed the suffering of acquaintances whose illnesses could not be treated, due either to poverty or ineffective therapies. This fired my resolve to become a doctor whose excellent skills could treat and cure to the sick and infirm.          
After obtaining my bachelor's degree in TCM, I studied under academician Shi Xuemin, a TCM and acupuncture master, and received my master's and doctoral degrees. In 1994, I enlisted in the PLA, and was the army's first physician with a PhD in acupuncture. Later, I developed therapies that combine acupuncture, cupping, and psychotherapy to cure cardio-cerebrovascular, cervical spine, and lumbar vertebra diseases, as well as psychological conditions. As regards mental health, I have introduced new concepts such as "comprehensive overall thinking" and "humanistic medical science (green medical treatment)." My research on bulbar palsy caused by strokes and sick sinus syndrome – conditions that have challenged doctors throughout the world – have won more than 10 awards in the fields of science, technology, and health care. To formulate the humanistic holistic medical model theory, I embarked on a doctoral philosophy program at Nankai University. Under my supervisor, the eminent Professor Chen Yanqing, I completed my research on changes in medical concepts and approaches and the establishment of a humanistic holistic medical model. 
Dramatic transitions in human society that led to growing healthcare demands and notable changes in the spectrum of human diseases all contributed to the driving force that shaped this new medical model. Human health today is greatly influenced by science and technology, a changing natural environment, and modern lifestyle. Higher incidences of chronic diseases stemming from old age, emotional stress, metabolic disorders, and an unhealthy lifestyle demand radical reforms to medical approaches and models.