A Life Devoted to Protecting the Snub-nosed Monkey
China Today, February 7, 2017

Adjust font size:

If possible, I want to work till the end of my life," 64-year-old forest ranger Yu Jianhua said. Yu's work at the Baima Snow Mountain National Nature Reserve of Diqing Tibetan Autonomous Prefecture in Yunnan Province for the past 20 years has been to protect the Yunnan snub-nosed monkey.

Although the coniferous forests of Yunnan and Tibet are this ape's habitat, its name reveals links with France. In 1871, Frenchman Pere Armand David reported sightings of this unnamed animal. Almost 20 years later, his compatriots R. P. Soulie and Monseigneur Biet commissioned local hunters in Deqen County to capture seven Yunnan snub-nosed monkeys of different ages and both genders, and sent them to a museum in Paris. After a thorough examination, French zoologist Alphonse Milne-Edwards gave these specimens a scientific description and nominated the species Rhinopithecus bieti in tribute to one of its first captors.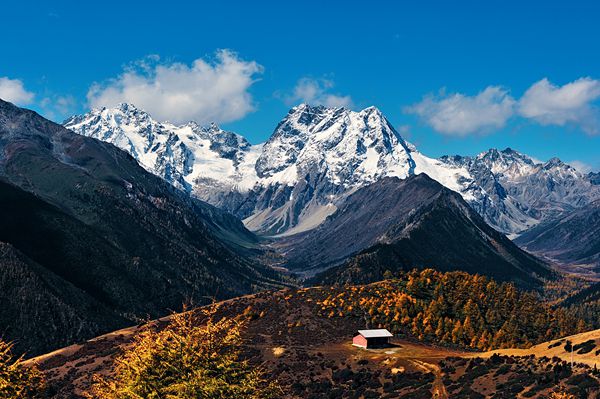 The landscape of the Baima Snow Mountain National Nature Reserve in Diqing Tibetan Autonomous Prefecture. CFP
Yu's ignorance about the origins of his beloved monkey's scientific name does not impair his desire to protect it. Yu's home is in Xiangguqing Village within the Shangri-La National Park. Its inhabitants are mainly people of the Lisu ethnic group. There are a dozen households in the community where Yu lives, and almost every one houses a ranger.
Led by Yu, these specialist rangers have expanded to more than 20. The number of Yunnan snub-nosed monkeys has also increased to more than 500 from the 380 of 20 or more years ago.