Ebola outbreak not yet under control
Xinhua, December 26, 2014

Adjust font size: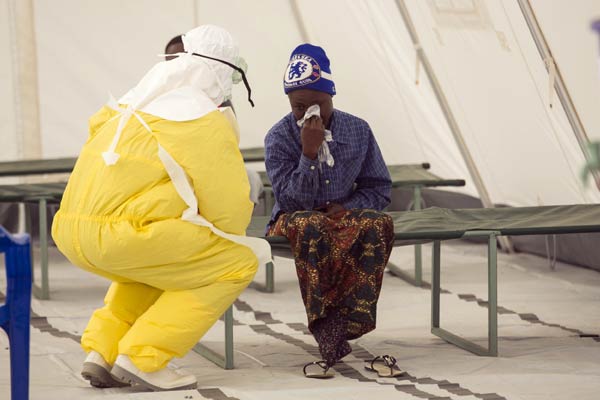 A health worker wearing protective gear attends to a newly admitted suspected Ebola patient in a quarantine zone at a Red Cross facility in the town of Koidu, Kono district in Eastern Sierra Leone in this December 19, 2014 file photo. [Photo/Agencies]
UNITED NATIONS -- Despite progresses made in the fight against the ongoing Ebola outbreak that distresses large parts of West Africa as well as the rest of the world, the epidemic is yet to be put under control, a senior UN official said.
David Nabarro, who was appointed special envoy for coordinating affairs of the UN Mission for Ebola Emergency Response (UNMEER) in September, told Xinhua in a recent interview that the chains of infections are not totally known in western Sierra Leone and in some areas of Guinea's inland, while in Liberia, the situation is largely under control.
Since the start of his mandate, Nabarro has witnessed a decrease in the number of Ebola cases in the eastern part of Sierra Leone and an upsurge in the neighboring nation of Guinea.
More specifically, Nabarro said, the upsurge is in Freetown, the capital city of Sierra Leone, as well as in Porto Loko and the Bombali District of the country.
"Now in these areas we've got more cases appearing...and we don't always see them coming from known transmission chains and so what we need now is detective work," he added.
The detective work includes finding people who are infected as well as their contacts and encouraging them to stay in isolation so they can be monitored and receive treatment, Nabarro said.