Over 1 million affected in China rainstorms
Xinhua, July 16, 2014

Adjust font size: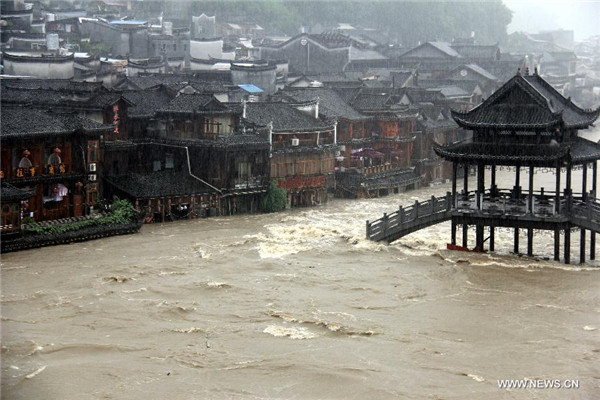 The ancient town of Fenghang County is flooded by rain water in central China's Hunan Province, July 15, 2014. [Photo/Xinhua]
Fenghuang County normally receives an average of 20,000 to 30,000 tourists a day. Now several tourist spots have been closed for safety reasons.
Landslides blocked several highways and disrupted train service in Hunan on Tuesday.
At least four trains were delayed for more than 10 hours on the Hunan section of a pivotal railway linking Shanghai with Kunming.
Railway authorities in Hunan Province said traffic began to resume at 8:45 p.m., after the rain subsided and traffic proved safe.
Rain also battered neighboring Guizhou Province over the past two days, with 14 counties and districts having been flooded.
As of Tuesday, almost half a million people in Guizhou were affected, 21,055 of them being relocated. Rain caused a landslide in Zhijin County early Tuesday morning, burying at least five people.