Over 1 million affected in China rainstorms
Xinhua, July 16, 2014

Adjust font size:

Rainstorms lashed central China's Hunan Province and southwest China's Guizhou Province on Monday and Tuesday, affecting over 1 million people and flooding a historical town.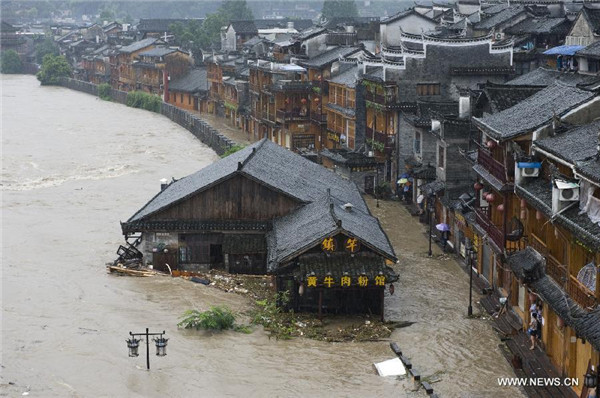 The ancient town of Fenghang County is flooded by rain water in central China's Hunan Province, July 15, 2014. [Photo/Xinhua]
About 720,000 people from 240 townships in Hunan had been affected since early Monday morning, the provincial flood control headquarters said on Tuesday. Over 460 homes had been destroyed and 149,400 residents had been relocated.
In Hunan's Fenghuang County, a major tourist destination, more than 120,000 locals and tourists were evacuated. Power supply was cut off for over 10 hours and temporary settlement was set up.
As of midnight Tuesday, power supply was yet to resume in some old communities.
At noon, the water level in Tuojiang River in the county was 1.1 meters above the highest level previously recorded. Several bridges had been damaged or destroyed. Water flowed into dozens of bars, restaurants and hotels. The water was high enough for boats to pass along several streets and the local hydrographic bureau issued a red alert at 10:10 a.m. Tuesday.
The water levels of three big reservoirs in the county also passed warning levels with cracks and landslides reported. Over 100 soldiers had been dispatched for repair and rescue work.