Sights Set on Universal Healthcare Dream
chinadaily.com.cn, September 26, 2013

Adjust font size:

He says rural China has many opportunities for foreign investment, including the supply of affordable medical equipment, the supply of medicines and the training of rural doctors.

"The government should give more guidance for private sector investment, both in terms of commercial investment and charitable investment," Zhang says.

An example of a foreign company that has invested heavily in rural China for charitable causes is the Switzerland -based pharmaceutical company Novartis AG, which has launched a project to educate schoolchildren about healthy living and train rural doctors from grassroots hospitals and healthcare centers, so that they can better understand infectious diseases.

Known as Jian Kang Kuai Che (meaning Health Express in Chinese), the project has extended basic health educationto 690,000 schoolchildren and 33,000 adults and trained 800 infectious disease physicians, nurses and medical workers since its launch in the Xinjiang Uygur autonomous region in 2010.

Helen Chui, China president of Novartis, says the project aims to bring sustainable healthcare development to China, and her team wants to provide training to local children and improve doctors' capabilities in tackling diseases apart from just providing medicines as a cure.

"In rural areas, individuals do not know much about health and hygiene and healthcare resources are also less developed than in other regions," she says.

According to Chui, Novartis' work in rural China aims to tackle these challenges, mainly by helping rural China build capabilities, so that the company's efforts can have an "enduring impact" for rural China in years to come.

The schoolchildren's training focuses on hygiene habits, and also covers basic lifesaving skills in cases such as fire and electric shocks. The training courses are designed with the hope that students will pass on their knowledge to their parents.

The doctors' training focuses on infectious diseases such as hepatitis B treatment. According to the Ministry of Health, China has at least 20 million chronic hepatitis B patients. The illness has become one of the top three infectious diseases in Xinjiang.

The training also encourages each physician to share with their patients information about the treatment of chronic diseases such as hepatitis B.

In 2012, Novartis signed an agreement with the Xinjiang government and rolled out a three-year partnership to help Xinjiang improve its capacity for hypertension care and cardiovascular treatment.

According to Novartis, the Health Express project involves an investment of more than 10 million yuan every year.

German pharmaceutical company Bayer HealthCare and the then Ministry of Health launched a training program in 2007 called Go West with the goal of improving medical infrastructure and standards of healthcare provision in rural regions, especially in West China.

The program offers training for rural physicians. In each targeted region 600 hospitals are linked to a leading hospital that runs the training, according to Bayer HealthCare.

The project has been successfully extended to 20 regions with 114 training courses completed by December 2012. It also provided professional training to more than 11,000 doctors and hospital executives.

"We felt it was necessary to help the development of rural healthcare in China, given the inadequate infrastructure, doctors with less training and low income of the population there," says Alok Kanti, managingdirector, Bayer HealthCare China.

"It is part of a long-term perspective. As a leading multinational pharmaceutical company, we would like to leverage our expertise and work with the government to develop China's healthcare infrastructure in these areas."

Kanti says that the Go West program focuses on common diseases in rural areas, frequently occurring and difficult or complex diseases. It also provides training in county-level hospital management, doctor-patient relationships and other topics.

The program is run in cooperation with medical universities and colleges in China's rural areas. Full-time training programs, generally run for three months, covering topics including internal medicines, surgery, pediatrics, gynecology and medical technology, Kanti says.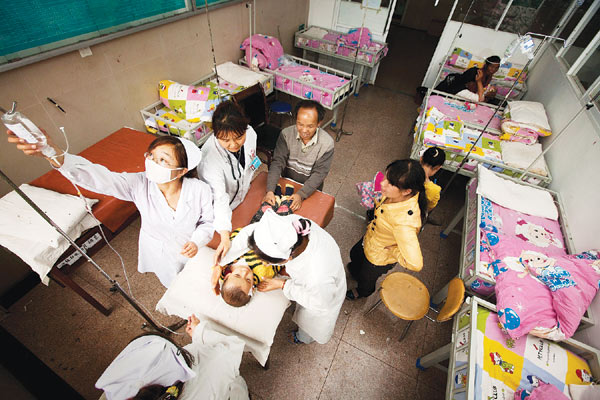 videoplay("videoarea");
                         A doctor takes care of a young patient in rural China. China has a goal of providing universal healthcare coverage by 2020.[chinadaily.com.cn]