Young ruan artist and her musical dreams
China.org.cn by Wang Bo and Li Jingrong, July 18, 2017

Adjust font size: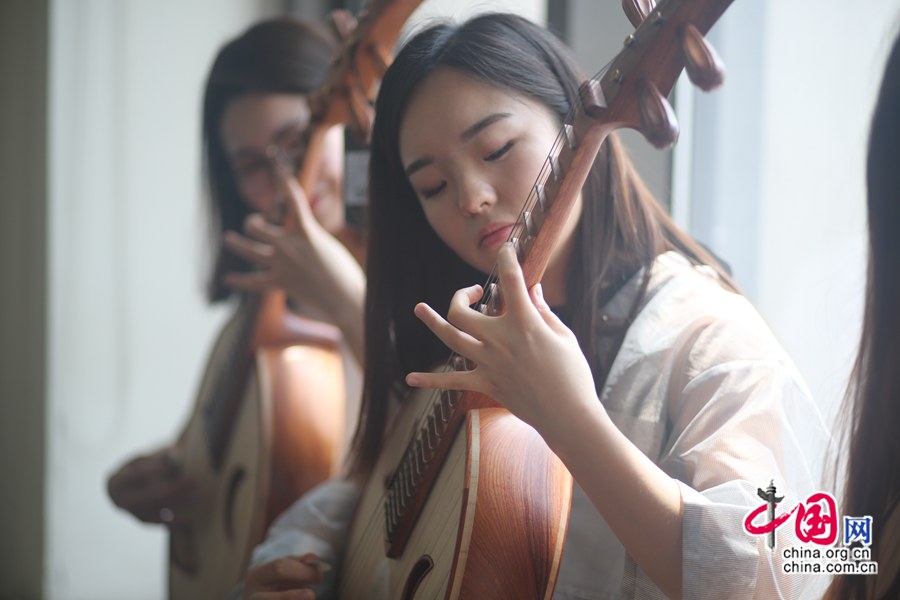 Guo Mengjia performs on the ruan. [Photo/China.org.cn] 
Teacher who passes on knowledge and enlightens kids
Since graduation from the Central Conservatory of Music, Guo has served as a teacher of the Folk Music Band of the Tsinghua University Primary School based in Beijing's Haidian District. As a teacher, in addition to imparting to the students her experiences in learning to play and performing with the ruan, she tries to help them develop their interest in folk music and traditional Chinese culture in general.
The vast majority of the students obviously very young and how to simplify and visualize the musical knowledge to these young children has become a challenge in her teaching work.
In order to avoid children from giving up halfway, Guo patiently encourages them, and tells them not to give up easily. To add freshness and fun in her music theory lectures, she often plays familiar songs and tunes much loved by children.
In the course of teaching, Guo can spot problems and correct them immediately and she works hard to constantly update her teaching methods.
She cited an example about the children's extremely strong imitation ability. Once, in a class, Guo gave the students a demonstration of performance by accidentally beating out the rhythm with her feet. In the immediate aftermath, some students followed suit in their own performance.
She promptly stopped them and explained that her previous move was just a teaching practice, and it was not advisable to introduce that into a musical performance.
Guo drew a lesson from that class that, as a teacher, she must be responsible for what she says and does and avoid giving the wrong impression in front of children. Her serious and rigorous teaching attitude has been highly-affirmed by students and parents alike.
Especially for children, she is a mentor, a good partner and a good friend in whom they can confide.