Young ruan artist and her musical dreams
China.org.cn by Wang Bo and Li Jingrong, July 18, 2017

Adjust font size:

Guo Mengjia, 24, is a well-known ruan artist and folk musician in China. She has inherited and seeks to pass on love of the traditional Chinese music instrument through a distinctive performance and teaching style honed by years of exploration in the folk music field.

The ruan dates back to the Tang Dynasty (618-907). It is a plucked instrument with a fretted neck, a circular body and four strings. The music produced by this instrument sounds natural and melodious, with an extremely resonant style. Nowadays, it is widely used for solo, duet and orchestral performances, and as a song and dance accompaniment.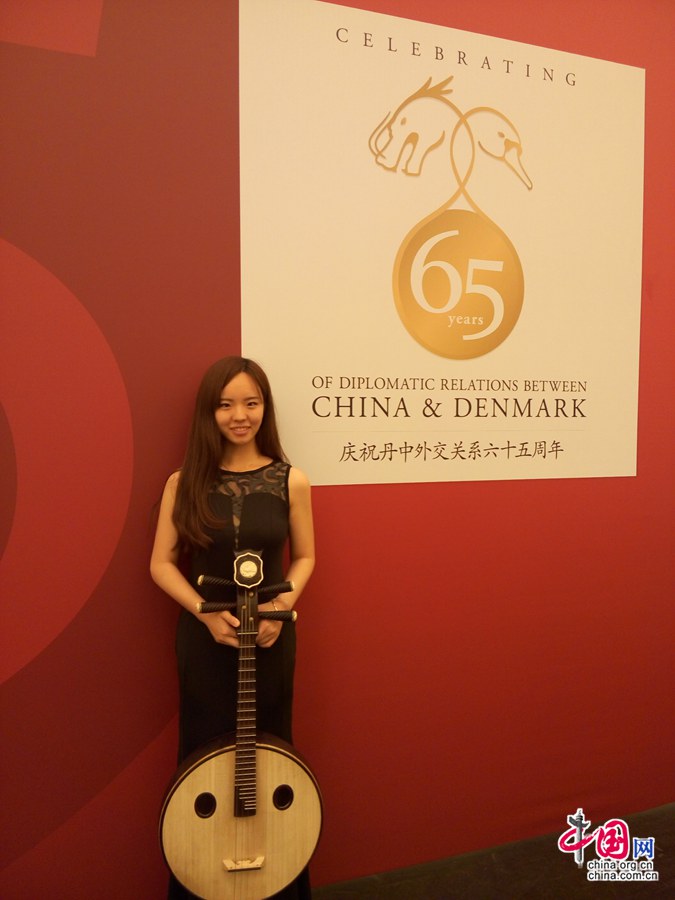 Guo Mengjia poses for a picture in an activity celebrating 65 years of diplomatic relations between China and Denmark. Guo has participated in overseas performances and cultural exchanges many times since she was a university student. [Photo/China.org.cn] 
Diligent student eager to learn
Guo started to study traditional Chinese music at the age of nine. The first musical instrument she became involved was the guzheng rather than the ruan. This is another ancient Chinese plucked instrument with 21 or 25 strings. Guo's performance reached Level 10 -- highest for amateur performers in China -- before she met Xu Yang, a professor and expert in the ruan at the Central Conservatory of Music.
Professor Xu was deeply impressed by Guo's talent, good mastery of instrumental performances and her high artistic accomplishment. In 2006, she was admitted to the Central Conservatory of Music Middle School and studied under Professor Xu to learn to play the ruan systematically.
In 2011, Guo fulfilled her long-cherished dream by being enrolled in the Traditional Instruments Department of the Central Conservatory of Music majoring in the ruan.
In the same year, she joined the China Youth National Orchestra, at the same time becoming a member of the well-known Shengfeng Folk Music Band. She has been to Austria, Slovakia, Bulgaria, Denmark and other countries many times with her orchestra and band to participate in musical performances or other cultural exchanging activities.
Due to her outstanding performance, Guo has won many awards in her career, including the Bronze Prize at the First Beijing International Ruan Competition in 2010, the Golden Bell Award at the Ninth National Musical Competition in 2013, and the Top Prize for Excellent Teachers at the Second National Ruan Art Show in 2015.
Guo's great achievements at such a young age are primarily due to her talent, diligence, tireless efforts and persistent pursuit of her music dream.
However, not to be overlooked is the great support she has received from her family. "I should especially thank my mother for her help. She has always been strict with me and always cheer me up in my ruan study," she said.