Reminder: North Korea is not Syria
china.org.cn / chinagate.cn by Sumantra Maitra, April 13, 2017

Adjust font size:

As the USS Carl Vinson Carrier strike group steams north towards the Korean peninsula, the question that confronts us all is: will North Korea be next?

The U.S. Pacific Command announced in a statement that the redeployment of the Vinson was underway, alongside with its impressive battle group. Apart from the Nimitz-class carrier with its potent Carrier Air Wing2, the group contains the Arleigh Burke-class guided-missile destroyers USS Wayne E. Meyer and USS Michael Murphy, and the Ticonderoga-class guided-missile cruiser USS Lake Champlain.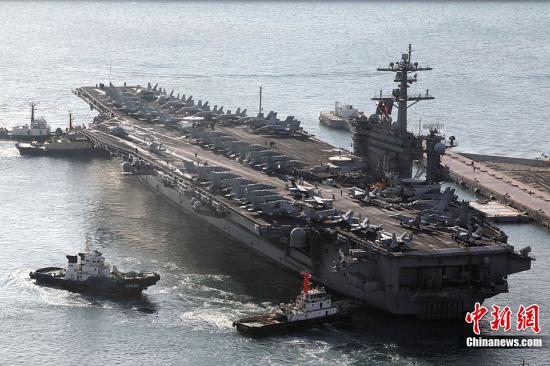 The USS Carl Vinson Carrier. [File photo]
According to the Command's press release, there is enough firepower available to wage war for over a week on its own against any medium-sized power.
Naval battle group movements are usually not announced in advance, unless there's an overt message to be conveyed. Those who know the history of U.S. naval movements will perhaps remember the most famous of them all, when the USS Enterprise battle group entered the Bay of Bengal during the 1971 war that led to the creation of Bangladesh in a clear show of force. This is something similar.
Obviously, the statement didn't mention North Korea by name; however, there's no doubt who is the intended recipient of the message and, indeed, the very nature of the message, following so closely on the Syria missile strikes.
While that event was predictably a one-off, it was a political message to show that there's a new sheriff in town, not a professorial and certainly not as nuanced as his predecessor. In fact, the new administration in Washington is more than willing to use force, and use it fast. In sum, as the Financial Times pointed out – the world's policeman is back on the beat.
There's one problem however. North Korea is not Syria.
First of all, Syria is a country roiled by sectarianism. It is in essence a country that always contained an undercurrent of conflict between the Muslim Shia and Sunni sects, but which was, in effect, tied together by common opposition to Israel. That bond has been shattered.
Added to that is great power rivalry between the U.S. and Russia, and between Turkey, Gulf Arabs and Iran. On top of that, the transnational identity of the Kurdish population meant it could only be a matter of time, given the right spark, before it imploded.
Over six years of civil war has left Syria in no position to defend against any external force, much less some random missile strikes by the United States. It cannot defend itself against any army or mercenaries from pretty much all the countries around it. It cannot defend itself against airstrikes by Israel. It is a rump of a state that once existed, and, truth be told, probably will never be whole again, or unified under a common single ruler, much like Afghanistan or Libya.
North Korea is different. It is not a random great power playground. It is certainly a declining economy, but still standing. Most importantly, it is a unified entity, with nuclear weaponry, a massive standing army, and enough firepower to flatten Seoul in the first week of any conflict.
North Korea is also capable of retaliating in and escalating any given conflict. There is no doubt, in any given war, United States will prevail, over North Korea, but at what cost? The latter's military forces are quite capable of making the cost unbearable for Japan and South Korea, if not the United States.
Analyzing the dynamics of various threats, one can infer a simple point. In a war with the U.S., North Korea would lose without external support. Given that situation, it is understandable, then, that North Korea would threaten to raise the retaliation threshold and escalate even simple decapitation strikes, in order to deter any action from adversaries.
North Korea may calculate it can stop South Korea and Japan from asking their American ally to launch any decapitation or surgical strikes. On the other hand, the U.S. might calculate that the North Korean regime would prefer to survive, and would tolerate any single surgical strike, rather than risk a broader conflict it would lose.
Given the lack of open communication, this is precisely the danger, as both sides will miscalculate the reaction from the other side, and there will be conflict. Will the Americans bluff? Will the North Koreans understand if it is a bluff, thinking any threat is purely rhetorical? I don't know. Nor does anyone. And that's dangerous, for Korean peninsula, as well as for broader Asian geopolitics.
Sumantra Maitra is a columnist with China.org.cn. For more information please visit:
http://china.org.cn/opinion/SumantraMaitra.htm
Opinion articles reflect the views of their authors only, not necessarily those of China.org.cn.