Growing expectations from President Xi's US visit
china.org.cn / chinagate.cn by Niranjan Sahoo, April 7, 2017

Adjust font size: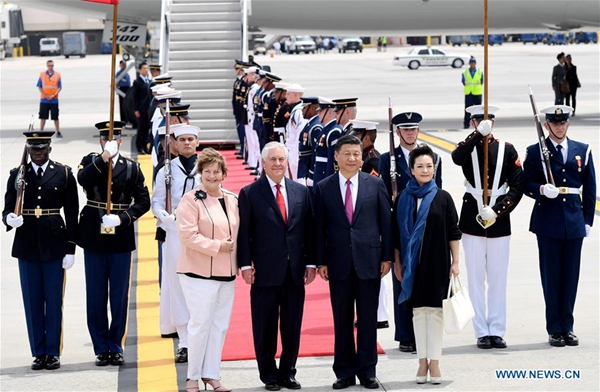 Chinese President Xi Jinping (2nd R, front) and his wife Peng Liyuan (1st R, front) are welcomed by U.S. Secretary of State Rex Tillerson (2nd L, front) and his wife upon their arrival at Palm Beach International Airport in Florida, the United States, April 6, 2017. Xi arrived here for the first meeting with U.S. President Donald Trump. [Xinhua/Wu Xiaoling] 
Sino-U.S. relation is on a testy ground, particularly since the arrival of Trump Presidency. The disagreements between world's two pre-eminent powers are many and widening each passing day of the new administration.
There are serious disagreements over trade, currency, North Korea's nuclear programs, issues involving South China Sea, intellectual property rights, cyber security and so on. In this regard, President Xi Jinping's visit to Mar-a-Lago, a prized estate owned by President Trump, may prove very useful to lower down the unwarranted heat in 21st century's most vital relationship.
It must be noted that during the course of his election campaign, candidate Donald Trump chose China as the favourite "whipping boy." While this is a common sight in democracies to toss up rival powers to gain some brownie points in bitterly contested elections, Trump had taken an extreme position throwing away minimum niceties and decorum when he accused "China of raping the American economy and stealing its jobs." Further, he had called for "trade war" and imposing hefty tariffs on the import of goods from China.
However, what he did after his slender election victory was even more worrisome. Breaking an established foreign policy tradition in America, Trump took an extreme brinkmanship to take the call from the Taiwan leader Tsai Ing-wen, thereby raising questions over the long standing "One-China Policy." Although he was quick enough to undo the damage by speaking with President Xi and then dispatching his foreign sectary Rex Tillerson to Beijing, such impulsive behavior often taking tenor of brinkmanship is likely to overshadow a crucial visit by the Chinese president.
Yet, as a consummate businessman, President Trump knows too well that any missteps or brinkmanship in the upcoming meeting at Mar-a-Lago would be much more costlier for his own country than China. First, the American president faces serious challenges to his leadership and skills as an efficient "deal makers." The glaring failure of his administration to overturn the Obamacare where many of the Republican lawmakers went against his wishes has left him politically weaker. Therefore, he would not like to commit another blunder with President Xi thereby risking open trade war and geopolitical tensions.
Second, on contentious issues like trade, given huge trade surplus that China runs over the U.S. economy ($347 billion), Trump has to be doubly careful before he launches any full blown "trade wars" as he has been threatening for quite a while. From electronics, textiles, construction to even agriculture, a large chunk of the U.S. industries are deeply integrated with China's and any misadventure from Trump would prove far more costlier for the struggling American economy.
Third, notwithstanding acrimonies and occasional rancor, China and the U.S. arguably share the deepest relationship on range of issues - trade, climate change, energy, global governance, peacebuilding and geopolitical cooperation at the United Nations among others. Economically speaking, having one sixth of world's economy and a trade volume over $520 billion, Sino-U.S. relationship is critical to maintain the good health of free trade and globalization. Besides, both countries have huge responsibility to lead the global collective action on climate change. It is for everybody's benefits that acrimonies are managed through practical deal makings mutually beneficial to both countries and the world.
In short, the world is watching with bated breath how the first meeting between two most powerful men would end. It would be an understatement to say that stakes are very high for the world on a number of issues ranging from trade, globalization, regional security, geopolitics and global growth and peace. If not any major breakthroughs on contentious issues, the world is expecting incremental positive outcomes from the meet.
The author is a columnist with China.org.cn. Opinion articles reflect the views of their authors, not necessarily those of China.org.cn.