Bankcard holders confident enough to spend
Shanghai Daily, April 12, 2016

Adjust font size: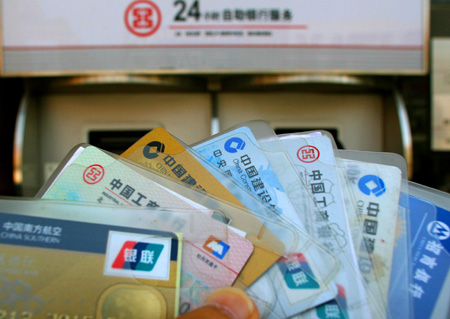 A citizen holds various bank cards. [File photo]
Chinese bankcard holders' confidence in March edged up from a month ago as they spent more on entertainment, transport and business activities.
The Bankcard Consumption Confidence Index picked up 0.49 percent from that of February to 81.08 points, China's state-backed yuan payment and transaction firm China UnionPay said yesterday.
Expenditure at hoteliers and gas stations surged 28.8 percent and 28.7 percent from a month ago respectively, suggesting business-related spending was gradually gaining momentum.
Spending on home appliances rose 24.6 percent from a month ago amid a hot real estate market.
The lower cost of agriculture and food last month cut the portion of bankcard holders' spending at supermarkets by 2.84 percent from their total outlay.
The UnionPay report also said that measures and guidelines released by the central bank and the China Banking Regulatory Commission to encourage more consumer finance firms would also bolster consumer confidence in the coming months.