Chinese films must compete without protectionism: official
china.org.cn / chinagate.cn by Zhang Rui, October 29, 2015

Adjust font size:

The director of China's film bureau told a seminar in Beijing on Sunday that the Chinese film industry should be able to prosper without the help of protectionism, and filmmakers should have an ambition to make good films on their own.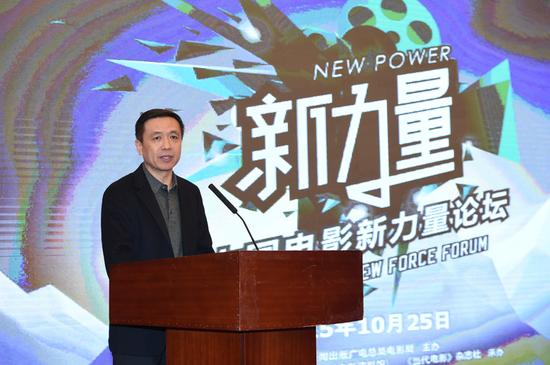 Zhang Hongsen, director-general of the Chinese Film Bureau, speaks at a forum to study new power, trends, and talents of Chinese film industry in Beijing, Oct. 25, 2015. [Photo / Sina.com.cn] 
Zhang Hongsen, director-general of the Film Bureau, said the best defense was offense when addressing the Chinese Film New Force Forum held in Beijing attended by filmmakers such as Xu Zheng, Ning Hao, Wu Jing, Tian Xiaopeng and Han Yan.
Amid talk of China further loosening or even abandoning quotas on the import of Hollywood blockbusters' quotas, Zhang said an open competitive environment was the best impetus for Chinese industry to meet the challenge of its American rivals.
"Everyone wants to know what it will be like after 2017," he said. "But now we have to exploit the available time and space, which means, we should make more good films under current circumstance and ensure Chinese audiences have more confidence in domestic films. In the future, when China produces more great films, no one will be afraid of competition from foreign films."
China and the United States signed a memorandum of understanding in 2012 during a visit by then Vice President Xi Jinping. Under the agreement, China permitted a maximum of 14 premium format films (IMAX, 3D) to be exempt from the 20-film import quota. In addition, the box office share that United States studios can earn under the master contract was increased from 13 to 25 percent.
The agreement will expire in 2017. During President Xi's recent U.S. visit, the China Film Group Corporation and the Motion Picture Association of America signed an Agreement on Cooperation in Importation and Distribution of Revenue-Sharing Films, which raised debate on how Chinese film companies would cope.
"I always have confidence in Chinese films," Zhang said. "Of course, I hope the industry will get better. But 'better' doesn't mean we make use of protectionism to get to that level. We should stand firm in the face of competition. Every filmmaker should be alert and have a strong urge to make high quality movies. "
Zhang made clear his belief that China's film industry has not yet developed to the ideal status, pointing out that, "We have too many small and medium sized productions and there is imbalance between the different levels. We lack big productions, like 'Monster Hunt,' which represents the starting point of China's big film productions. This requires big funding and high technology. And we also should make more epic feature drama films such as 'Forest Gump' and 'Godfather' in the future."
He pointed out that 2015 is a very significant year in China's film industry development as a constant stream of hit motion picture, and more film talents and creative phenomenon have surfaced.
"We hope China's film product system will develop in balance and the Chinese film industry will move along an active, healthy, and sustainable development path. Then, China can move from being a big market to a big film powerhouse in the world."