Premier Li Keqiang stresses innovation
Xinhua, July 29, 2015

Adjust font size:

Premier Li Keqiang has called for greater efforts to encourage innovation in science and technology, saying that innovation is the "golden key" for China's development.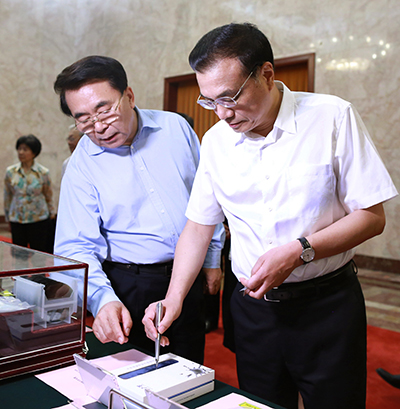 Premier Li Keqiang, accompanied by Bai Chunli, president of the Chinese Academy of Sciences, tries an electronic pen developed by the academy before sitting down for talks with leading scientists on the country's development of science. [Photo by Feng Yongbin/China Daily]
Li made the remarks at a symposium on science and technology strategy Monday.
Efforts to promote scientific and technological development are vital for China to gain an edge in the global scientific and technological revolution and deal with environmental and resource constraints as the country enters a key stage for upgrading and development, Li said.
The premier stressed that science and technology should be regarded as a primary productive force, calling for closer integration of science, technology and the economy to maintain momentum for medium-high speed economic growth.
Monday's symposium also marked the 60th anniversary of the founding of the Academic Divisions of the Chinese Academy of Sciences (CAS), one of China's top scientific think tanks.
The premier expressed appreciation for the work of the CAS Academic Divisions and CAS members, calling on the scientists to be leaders in innovation and fostering younger talent.