Li promotes development in central, western areas
Xinhua, February 17, 2015

Adjust font size: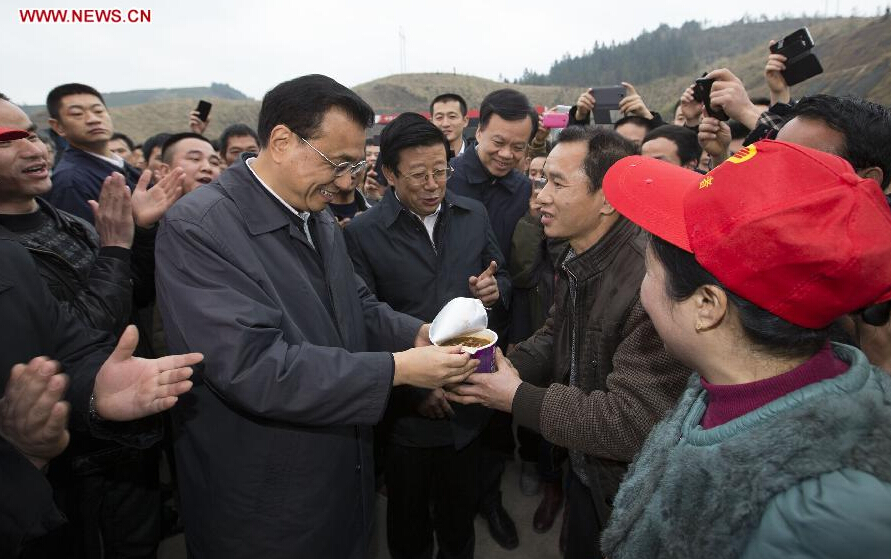 Chinese Premier Li Keqiang, also a member of the Standing Committee of the Political Bureau of the Communist Party of China (CPC) Central Committee, hands a cup of instant noodle to a migrant worker who is on his way home at Zhongchao service zone on Liluo expressway in southwest China's Guizhou Province, Feb. 14, 2015. Li made a tour in Qiandongnan Miao and Dong Autonomous Perfecture and Guiyang in Guizhou on Feb. 13 - 15, and extended festival greetings to locals and people of all ethnic groups ahead of the Spring Festival, which falls on Feb. 19. (Xinhua/Huang Jingwen)
Chinese Premier Li Keqiang has urged central and western provinces to speed up economic growth efforts during a three-day visit to western China.
Li visited a local market, a village and an economic zone and talked with local people in an ethnic minority town and the capital city of southwest China's Guizhou Province ahead of the Chinese Lunar New Year.
The premier extended new year greetings to people from all walks of life.
Li urged local governments to improve economic, medical, ecological and infrastructure conditions as consumption in rural areas was crucial to expanding domestic demand.
Li also said the government would improve education aid policies; roll out guidelines to facilitate sector growth in central and western areas; and encourage more migrant workers to return home.
These regions can be new engines to power national economic growth and they should seek an innovative development model by facilitating industrial upgrading and supporting emerging sectors, Li added.