Pollution in Shanghai 8 times WHO safe level
Shanghai Daily, January 5, 2015

Adjust font size:

Air pollution in Shanghai yesterday reached eight times the World Health Organization safe level.

And continuing warm weather, with temperatures up to 19 degrees Celsius, means that more pollution is possible today, said officials.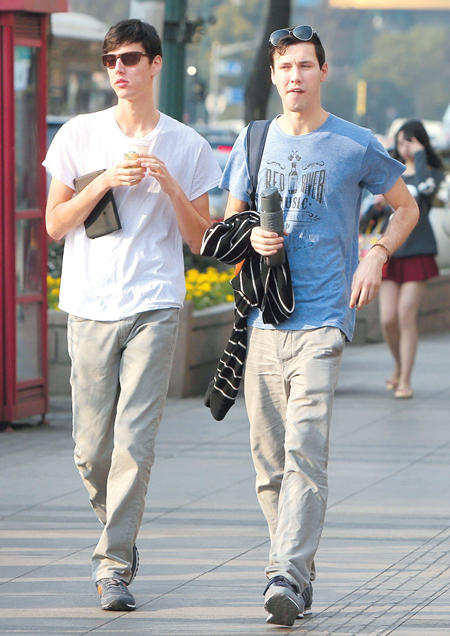 Pedestrians in T-shirts on Shanghai's streets yesterday, as temperatures reached 16 degrees. [Photo/Shanghai Daily]
Yesterday, a combination of high pressure, temperatures reaching 16 degrees and weak southwesterly winds led to a haze over the city as pollutants did not disperse.
At noon, the city air quality index peaked at 244 — "heavily polluted," said the Shanghai Environmental Monitoring Center.
The concentration of tiny PM2.5 particles — especially harmful as they can penetrate deep into the respiratory system — peaked at noon with a reading of nearly 200 micrograms per cubic meter.
This compares to a safety guideline of 25 micrograms set by World Health Organization.
By 4pm, half the monitoring points recorded an AQI of less than 200 — "moderately" or "lightly polluted."
The average AQI fell to 148 and PM2.5 dropped to 110 micrograms, said center officials.
Today, city weather will still be affected by the warm air mass with temperatures reaching 19 degrees under cloudy skies, said the Shanghai Meteorological Bureau.
Humidity will increase in the morning leading to fog in some areas, said the bureau.
Still conditions will see pollutants linger, so smog can't be ruled out, said officials.
However, there will be a change tonight with the arrival of a cold front.
Cold air flows combined with low pressure are set to produce drizzle tomorrow and push the high down to 8 degrees, with the low 4, said the bureau.
Rain and stronger winds should help wash away and disperse pollutants.
Wednesday will see temperatures range from 3 to 6 degrees.
Sunny weather is expected on Thursday, bringing a slight increase in temperatures.
Temperatures on Thursday and Friday should range from 2 to 9 degrees, weathermen said.