Ensure employees' normal welfare in the fight against graft
chinadaily.com.cn by Wu Yixue, January 4, 2015

Adjust font size: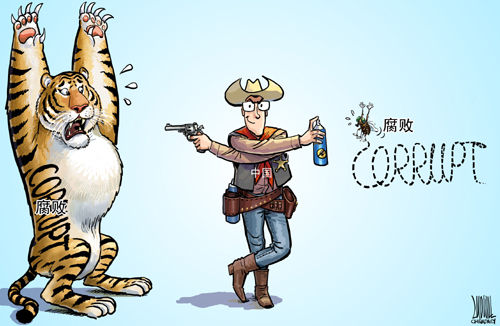 The anti-corruption and anti-extravagance campaign launched two years ago has brought down many "tigers" (high-ranking corrupt officials) as well as "flies" (lower-ranking corrupt officials). This has to a large extent improved the image of the Party and helped restore public confidence in the Party and government.
But despite supporting the austerity campaign, the public is wary of some officials' extreme behaviors in implementing the official directive. For example, some employers have stopped the distribution of even low-priced moon cakes for Mid-Autumn Festival, while others have banned the gifting of desk calendars and diaries for the New Year. Some employers have even launched very rigid and complicated procedures to reimburse even transport and communications allowances. One employer has reportedly stipulated, quite ludicrously, that three or more employees cannot go outside together for dinner.
The allowances and subsidies that some employees got from their employers used to constitute an important part of their incomes. Such people could earn enough to lead a decent life despite their salaries being low, which turned them into enthusiastic workers. But now some media reports say that employees' passion for work is falling because their additional incomes have been either reduced or lost.
The fight against extravagance and waste is necessary to develop a frugal society, but this should not compromise the normal welfare and benefits of employees. The latest circular shows that the authorities have hammered home this point.