Ensure employees' normal welfare in the fight against graft
chinadaily.com.cn by Wu Yixue, January 4, 2015

Adjust font size: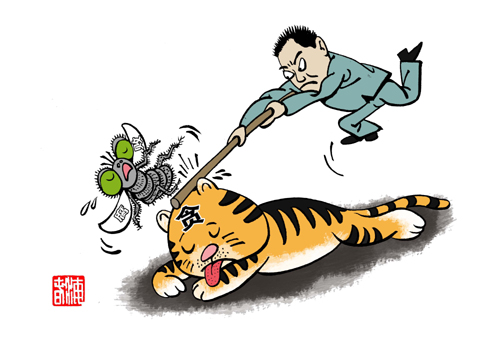 In a recent joint circular, the General Offices of the Central Committee of the Communist Party of China and the State Council reiterated the ban on the use of public funds to pay "bonuses" to employees and prevent "holiday corruption" during New Year's Day and the upcoming Spring Festival. Such regular crack down on extravagance and corruption, especially during "high-risk times" — usually in the run-up to some major festivals and holidays — is welcome.
Because of lack of effective monitoring, some officials continue to indulge in extravagance and cause waste. The eight measures to promote thrift, fight extravagance and improve officials' working style that were launched by the top leadership two years ago have curbed, not completely eradicated, such malpractices.
Some officials, especially those who lack legal awareness, believe only activities such as embezzlement of public money and taking bribes are corrupt practices — indulging in extravagance and causing waste are not. Such misconception has prompted some financially powerful State departments and monopolistic sectors to give commodities, shopping cards and even cash to employees in the name of welfare in violation of State regulations.
That a large number of officials across the country have been punished over the past two years for violating the eight anti-corruption and anti-waste measures is an indication of the tough road ahead in the fight against extravagance and waste. The latest central circular, therefore, should be seen as a measure to strengthen that fight.
But the latest circular advocates frugality and the vow to fight extravagance and waste without affecting the normal welfare and benefits that employees are legally entitled to. This means the ongoing campaign is targeted at preventing misuse of public money, curbing extravagance and fighting corruption, and not to deny employees their legal allowances and perks. Given the "rigid" campaign by some regions and departments and the resultant deviation from the real motive of the central leadership's move, the supplementary announcement has been appreciated by the public.