Nobel Prize winner donates medal to library
Shanghai Daily, December 29, 2014

Adjust font size:

Shanghai residents can now see a Nobel Prize medal up close after city-born scientist Tsung-Dao Lee, who won the Nobel Prize in Physics in 1957, donated his medal and diploma to a library named after him.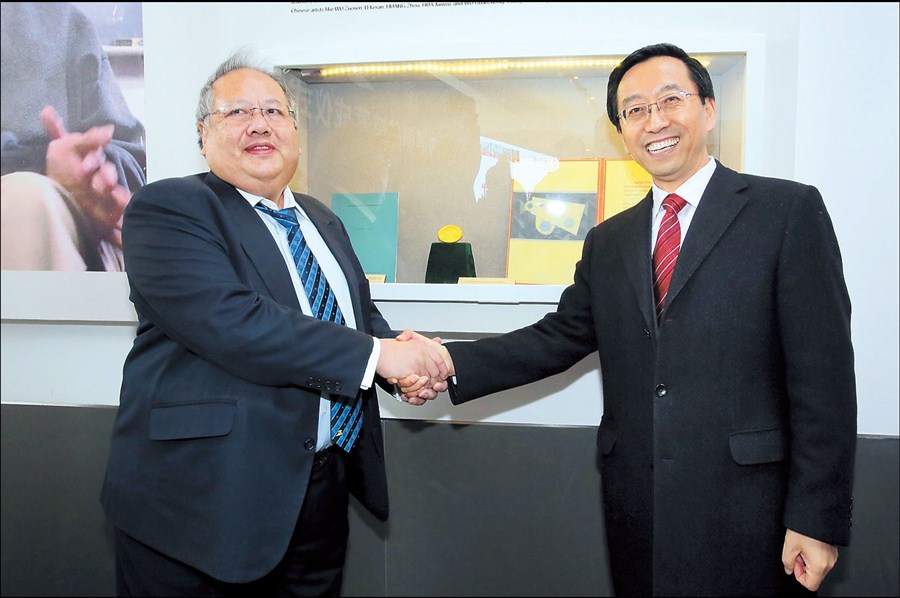 James Lee (left), son of Tsung-Dao Lee, shakes hands with Zhang Jie, president of Jiao Tong University, during the opening ceremony for the Tsung-Dao Lee Library at the university yesterday.
The four-story building, which opened yesterday at Jiao Tong University's Minhang campus, hosts 70,000 items donated by 88-year-old Lee.
These include more than 3,400 papers, some 5,700 research manuscripts, 40,000 letters, scientific and artistic works, awards and books.
"Cultivating scientific talent cultivation should not be limited to teaching in class," Lee said in a video message at the opening ceremony.
"My purpose in donating all my scientific archives and manuscripts to Shanghai Jiao Tong University is to benefit later generations. I hope the Tsung-Dao Lee Library may inspire young students to climb to the heights of science," he added.
Attending the ceremony was James Lee, son of Lee and Dean and Chair Professor of the School of Humanities and Social Sciences, Hong Kong University of Science and Technology.
"Visitors can see life-long scientific research of my father and the modern history of scientific development in China," he said.
The library, which has been nicknamed "Nobel Hill," is open to the public, said the university.
Born in 1926, Lee went to the University of Chicago in 1946 with the support of a Chinese government fellowship and was selected by Nobel Prize-winning physicist Enrico Fermi to become his PhD student. Lee joined Columbia University in 1953, where he is still a professor.
In 1957, aged just 30, he shared the Nobel Prize in Physics with Chen-Ning Yang, another American Chinese physicist, for their work on the violation of parity law in weak interaction.
As well as scientific achievements, Lee has also helped his homeland, giving lectures to scholars, founding the China-United States Physics Examination Application program and working on the Beijing Electron Positron Collider.