Foreigners flock to Taoism for natural balance
China Daily, December 26, 2014

Adjust font size:

After spending 19 years studying Taoist medical practices, Bernard Shannon opened his own temple in Palm Desert, California, in 2006. "There were only a handful of disciples and a few visitors. People came to me primarily for medical qigong or tai chi lessons," Shannon said, speaking at a Taoist forum in Yingtan, Jiangxi province.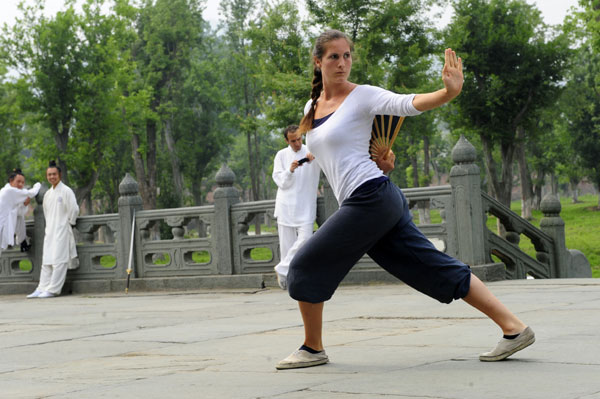 A student practices Taoist kung fu in the Jade Void Palace at Wudang Mountain, Hubei province. Wudang, long known as an important center of Taoism, has recently attracted a growing number of enthusiasts from all over the world. HE TONGQIAN/XINHUA 
Shannon, who has been ordained as a disciple of the 66th generation of the Celestial Master Sect of Taoism at Longhu Mountain in Jiangxi, found that the popularity of his teaching grew over time, and as his students dug deeper into exercises and medicine rooted in Taoist understanding of the body and the cosmology, they became increasingly interested in the sect's religious beliefs.
Taoism, also known as Daoism, is an ancient tradition of philosophy and religious beliefs based in Chinese customs that emphasizes harmony between humanity and the natural world.
Shannon's temple now has 50 disciples, and four of them have been authorized to establish temples across the United States. "There has been significant growth (in the number of disciples and visitors). People come tome to learn about philosophy, qigong or meditation exercises, but then something wakes within them. They want to learn more and more, and then pretty soon they want to seek ordination," he said.
He admitted that pushing forward the ritual, ceremonial, and various religious aspects of Taoism is difficult and challenging in a country such as the US, which has a predominantly Judeo-Christian population: "But the Taoist philosophy is becoming much more popular. The belief in harmony, yin and yang, and being good to one another fits very well with all sections of society in the United States."
According to Martin Palmer, secretary general of the Alliance of Religions and Conservation, the global influence of Taoism as a formal religion is limited compared with other religions.
Palmer, who has worked with the China Taoist Association since the 1990s and has also translated a number of Taoist classics, said there are only a small number of Taoists in the United Kingdom, an estimate confirmed by the UK's 2011 census in which 4,144 people described themselves as Taoists.
However, Taoism is influencing people through practices such as tai chi, traditional Chinese medicine and qigong. Palmer estimated that about 300 million people outside China use TCMs, and millions practice tai chi and qigong, despite having limited knowledge of Taoism as a religion.
In another sign that the religious side of Taoism has been gaining influence outside its home country, an increasing number of foreign Taoists have traveled to China to be ordained in temples in recent years.
The international forum in Yingtan, held in November, attracted more than 400 practitioners and scholars from 27 countries and regions.
The number of ordinations conducted by the Celestial Master Sect of Taoism, in Longhu Mountain in Yingtan, has risen to about 300, from 184 in 2012, and 160 in 2010, according to the website of the Taoism sect. "The number of foreign disciples ordained has exceeded the number of Chinese ordained," said Zhang Yanhong, a practitioner at Longhu Mountain.
Huang Xinyang, vice-president of the China Taoist Association, said the association will continue with a program to push forward Taoism overseas, including visiting three to five countries each year to spread the Taoist classics and host demonstrations of qigong, the Taoist method of maintaining corporeal well being.
Last year, the association launched its maiden overseas cultural exchange in Europe to promote the Taoist culture, and Huang said it's also preparing to establish a global fellowship society to increase the number of exchanges between Taoists across the globe.