Country to work with Egypt on infrastructure projects
China Daily, December 24, 2014

Adjust font size: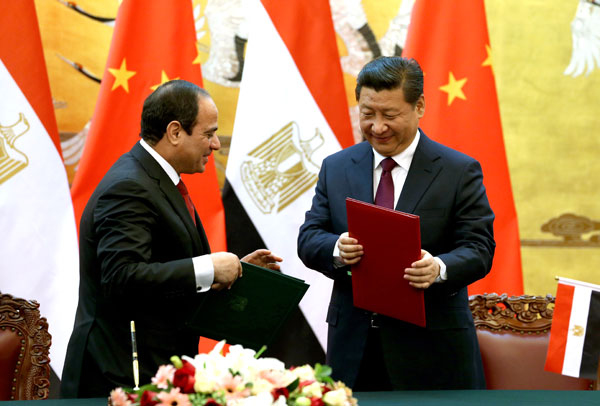 President Xi Jinpingand visiting Egyptian President Abdel Fattah al-Sisi signed a document at the Great Hall of the People in Beijing on Tuesday establishing a comprehensive strategic partnership. WU ZHIYI /CHINA DAILY
Key deals signed during Sisi's first visit to China
As Egypttries hard to put its turmoil-hit economy back on track, China is lending its support through an upgraded relationship and five agreements sealed on Tuesday during Egyptian President Abdel Fattah al-Sisi's first state visit to China.
After extended talks, President Xi Jinpingand Sisi officiated at the signing of agreements in areas including economic cooperation, trade, aerospace and energy.
China would like to link its Silk Road Economic Belt and its 21st Century MaritimeSilk Road initiatives to Egypt's major development plans, and to strengthen cooperation in infrastructure, nuclear power, new energy and aerospace, Xi said.
Calling the initiatives an important opportunity to revitalize Egypt, Sisi said his country hopes to work with China in the Suez Canal Corridor projects, and to attract more Chinese investment, students and tourists.
In August, Sisi gave the go-ahead for digging a 72-km expansion of the Suez Canal, ordering it to be open for navigationin early August 2015.
Egypt also wants to develop projects around the corridor to provide ships with fuel and food.
The projects are part of the administration's efforts to revitalize the Egyptian economy, which has been hammered in the past four years by two uprisings that led to the ouster of two headsof state and chilled prospects for investors.
Sisi, accompanied by eight ministers, started his first visit to China on Monday after he swept presidential elections in May. During his four-day trip, he is scheduled to meet representatives from Chinese companies, universities and the tourism industry.
Before returning home, Sisi is also expected to visit Chengdu, capital of Sichuan province, to tour factories specializing in technology and manufacturing.
Zhu Weilie, director of the Center for China-Arab States Cooperation Forum Studies and a professor at Shanghai International Studies University, said Egypt needs China's technology and participation in its industrial parks, and its once-booming tourism industry also places high expectations on China, the world's largest tourism market.
Trade volume between the countries exceeded $10 billion for the first time in 2013. Egypt's economy also picked up recently, with Fitch Ratings last week upgrading its credit rating one rank to "B" with a "stable" outlook.
Huda Metkees, a political science professor at Cairo University, said, "Egypt undoubtedly realizes the importance of the'Look East'policy in which China commands a pivotal position."
Unlike the West, which has a colonial past, China is well perceived in the Arab world, including Egypt, Gulf News quoted Metkees as saying.
Egypt has established a Cabinet unit for China led by Egypt's premier, with ministers as members, to study fields of cooperation.
zhaoshengnan@chinadaily.com.cn