Stairlift lets elderly reach new heights
Xinhua, December 19, 2014

Adjust font size:

A residential complex in Jing'an District has become the first community in Shanghai to install a stairlift for senior and disabled residents.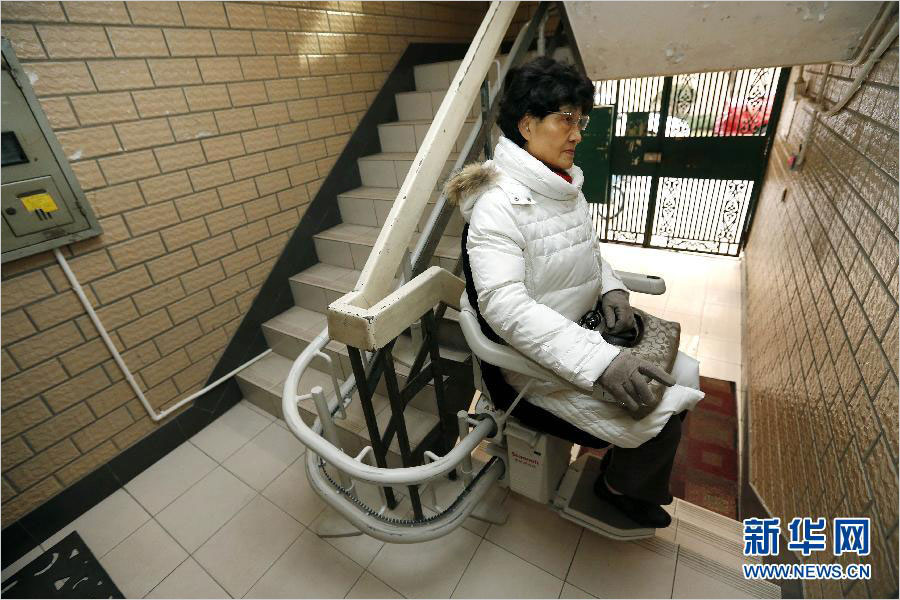 Wang Qian uses the stairlift installed at her residential building in Jing'an District in Shanghai on December 17, 2014. [Photo: Xinhua]
Stair access for seniors living in lower-rise buildings without elevators is becoming a growing problem as the city population ages.
The stairlift, donated by British company Stannah, is installed in a seven-floor building of 14 households at the Sanhe residential complex on Yanping Road.
It has been in operation for a month and has been given the thumbs up from residents in the building that dates from 1996.
"The stairlift is very user-friendly for older people and easy to control," said Wang Qian, 72, who has leg problems.
"It's given me easy access to join outdoor activities and enrich my life," she added.
Stairlifts offer a viable alternative to elevators and stair climbing machines, said Ye Xinghua, director-general of Shanghai Welfare Foundation for the Disabled, which introduced the program.
Elevators bring complications with agreements with neighbors and planning issues, while stair climbing machines require staff and take up space, said Ye.
The stairlift is easier to install, using a rail mounted on the stairway.
Each floor has a panel to call for the chair and users control it using a joystick. It moves at an average speed of 9 meters per minute, taking about eight minutes from the first to the seventh floor.
The cost of the equipment was 340,000 yuan (US$54,838) and was donated by Stannah.
Each household contributes 100 to 200 yuan a year for maintenance costs.
"The residential committee collected views from each family and approved the project," said Zhou Jian, Party secretary general of the community.
Ye said a cost-sharing model among residents, companies and government should be considered to extend stairlift use.