Over 100 dead in Taliban school attack in Pakistan
Xinhua, December 17, 2014

Adjust font size: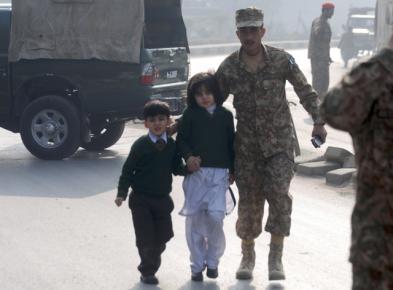 A soldier escorts schoolchildren from the Army Public School that is under attack by Taliban gunmen in Peshawar, December 16, 2014. Taliban gunmen in Pakistan took hundreds of students and teachers hostage on Tuesday in a school in the northwestern city of Peshawar, military officials said. [File photo] 
The death toll of a terror attack on a school in Peshawar of Pakistan's northwest Khyber Pakhtunkhwa province has risen to 126, said a spokesperson of the provincial chief minister on Tuesday afternoon.
The spokesperson said that 122 others were injured in the attack and the vast majority of the killed and injured are students aged below 18.
Earlier the chief minister of the province, Pervez Khattak, told media that the killed include two teachers and a security guard.
In addition, an unknown number of students and staff of the school are still being held hostage by the attackers, said local media, adding that this has created a problem for the rescue operation as the security forces have to save as many lives as possible during the operation.
So far four militants have been killed in the exchange of firing with the security forces who have rounded them up inside the school shortly after the attack was reported, said army sources, adding that the remaining militants have been cornered in the fourth block of the school.
Three blocks of the school have been cleared, said the sources, adding that a large contingent of security forces have been called in to fight against the attackers who are armed with heavy weapons and suicide jackets.
Helicopters and tanks have also been employed in the operation, the sources said.
The Pakistani Taliban have claimed responsibility for the attack.
Pakistani Prime Minister Nawaz Sharif have flown to Peshawar to direct the rescue operation. Army Chief Gen. Raheel Sharif have also cut short a visit to the country's southwestern province of Balochistan and headed for Peshawar.
Pakistani President Mamnoon Hussain have issued a statement strongly condemning the attack and said that such attacks cannot deter the resolve and morale of the Pakistani nation to fight against terrorism.
The attack reportedly took place at about 10:30 a.m. local time when a group of eight to 10 Taliban militants wearing army uniforms launched the attack at the army-run public school in the downtown area of Peshawar. The school offers education mainly to children aged from nine to 16 from the army families.