China opens 475 Confucius Institutes worldwide
CRI, December 8, 2014

Adjust font size: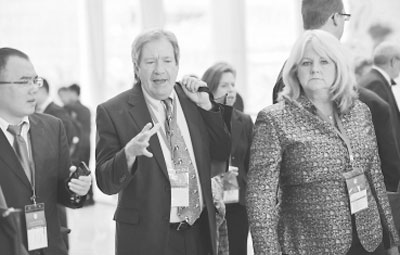 Chinese and foreign delegates are attending the 9th Confucius Institute Conference which is held in the city of Xiamen in Fujian on December 7, 2014. [Photo: people.com.cn]
China's top leadership is calling on the 475 Confucius Institutes currently in operation around the world to promote localization and innovation.
Vice-premier Liu Yandong has issued the call as part of a Confucius Institute Conference taking place in the city of Xiamen in Fujian.
"Quality is the lifeline of the Confucius Institute. The key to development falls on the leadership, while the base falls on teachers. We should increase the strength and improve all the factors in recruiting new teachers. We also need to focus on training local teachers, especially those who don't speak English, and support the creation of local textbooks. We should also be using the internet to help with the teaching process."
The Confucius Institute, established a decade ago, is a non-profit public institution which promotes Chinese language and culture abroad.
There are an estimated 100-million Chinese language learners around the world, which is more than four-times of the number 10-years ago.