Abuse fears over foreigner with 11 kids
Shanghai Daily, December 5, 2014

Adjust font size:

Beijing police are trying to trace a foreign man said to have "adopted" 11 children over the past 10 years, amid fears that they have been abused.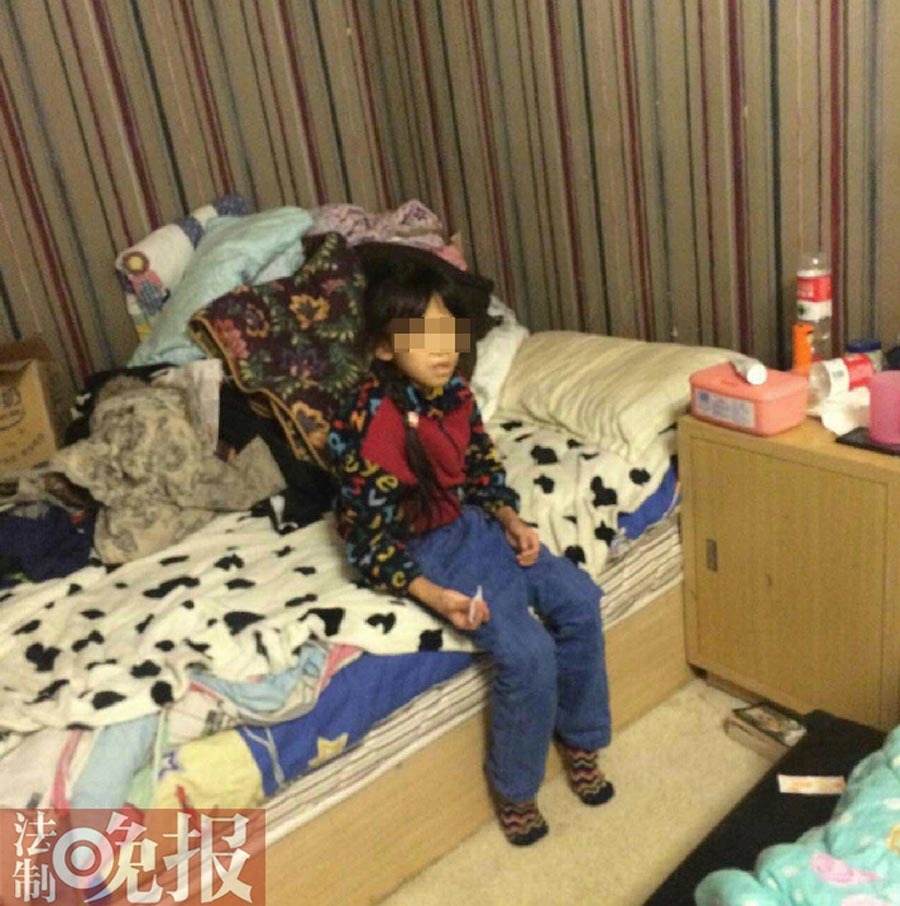 Beijing police are trying to trace a foreign man said to have "adopted" 11 children over the past 10 years, amid fears that they have been abused.[Photo/Legal Evening News]
This comes after one of the children, an 8-year-old known as Phoebe, underwent surgery at the Capital Institute of Pediatrics in Beijing on Tuesday, the Legal Evening News reported yesterday.
While surgery on a bowel obstruction and kidney damage was reported to be successful, the little girl is still said to be in a critical condition.
The report said that Phoebe, who was admitted to hospital more than a week ago, could only sleep on her stomach due to swollen kidneys.
Brought in by volunteer helpers, she weighed less than 20 kilograms — compared to a healthy weight of between 21.4 to 30 kilograms.
According to the report, she can speak English and simple Chinese but rarely talks.
Helpers familiar with the background said Phoebe was born with a cleft lip and "adopted" in 2006 by a foreign man who has another 10 Chinese boys and girls.
The man, said to be in his 50s, was not named, nor was his nationality given.
Afterward, Phoebe's lip was repaired, but the child also underwent two operations for trauma to the kidneys.
According to the report, Phoebe said that she had been injured by the man.
It is said that he took Phoebe from hospital previously before treatment was complete, but was stopped this time.
He is said to have then vanished along with the other children.
"He asked someone to send several thousand yuan to the hospital and hasn't shown up since," said one volunteer.
One foreign helper, who uses the Chinese name Xu Qiang, said he met the man and the children several years ago, and visited them several times in their two-bedroom house.
Xu claimed that all the children slept in one messy room and that the foreigner had been in China for 30 years and spoke fluent Chinese but seemed to have no job.
He began taking in children with congenital diseases at 2004, said Xu.
Some were brought to him, and others found abandoned by the man and an elderly Chinese women he hired.
He would post their photographs and stories on websites outside China to raise money for treatment, said Xu.
Xu said he saw the man physically abuse the children in public and push someone who remonstrated with him.
Some of the younger children would say that their "father" beat them, said Xu.
Xu added that even though volunteers brought them lots of food, the children were always hungry, and he saw them begging money from foreigners in a local supermarket.
According to Xu, the man would take the children to play in communities where many foreigners lived, far from their home.
None of the children attended school. Instead, their "father" would play American home schooling programs, so most are fluent in English.
Xu said the foreigner moved home every few months.
Anyone who questioned the conditions in which the children were living were threatened, Xu claimed.
Police are now investigating, it was reported.