Wild panda spotted walking with cub
Xinhua, December 3, 2014

Adjust font size:

Photos of a wild giant panda wandering with its cub were captured in a nature reserve in the Tibetan-Qiang Autonomous Prefecture of Aba in southwest China's Sichuan Province.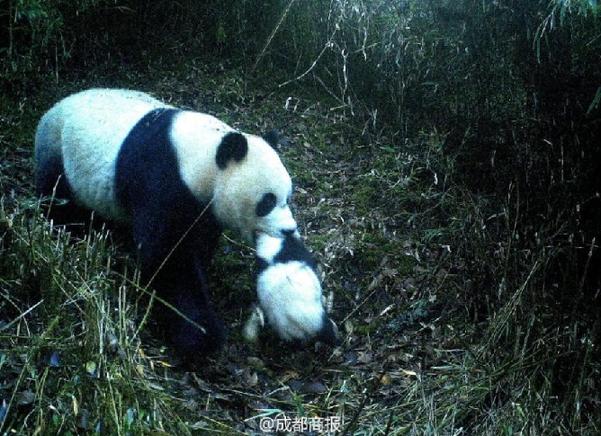 Photo taken by an infrared camera shows a wild panda who grabs a cub by the neck with teeth walking in bamboo forest in Jiuzhaigou, or Jiuzhai Valley, located in the Aba Tibetan and Qiang Autonomous Prefecture of northwestern Sichuan Province. [Photo/Sina Weibo account of Chengdu Business Daily]
The photos were captured by infrared cameras installed in Wujiao Nature Reserve under the forestry bureau of Jiuzhaigou County.
It is the third time that an adult giant panda has been photographed in the area this year, but it is the first time one was spotted walking with a cub, said the administration on Tuesday.
"The cub is only a few months old," said Hu Xueyu, head of the administration office of the nature reserve.
"Giant panda cubs always live with their mother until they are two-and-a-half to three years old," Hu said.
There are 26 rare animals in the Wujiao Nature Reserve, including golden monkeys, snow leopards and gnus.