Surgery enables 5 Tibet children to walk normally
China Daily, November 26, 2014

Adjust font size: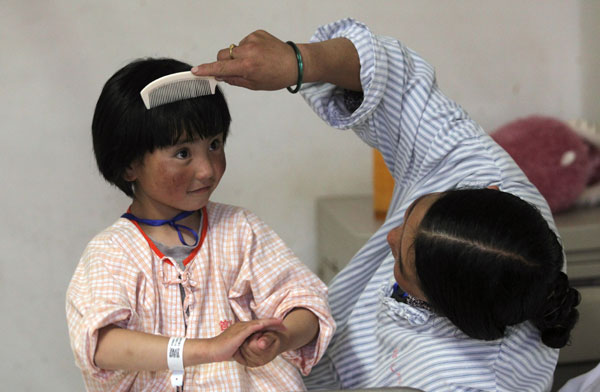 Five-year-old Tsering Wangmo has her hair combed by her mother at a ward in Capital Institute of Pediatrics in Beijing on Friday. The girl is one of five children with dislocated hips, all from the Tibet autonomous region, who are having surgery at the hospital. Two of them underwent a successful operation on Monday. Zou Hong / China Daily
Five children with dislocated hips have been brought to Beijing from their homes in the Tibet autonomous region to receive treatment that doctors hope will enable them to walk normally.
On Monday, Tenpa Yugyel, a 3-year-old boy, and Chonyi Drolma, a 6-year-old girl, underwent surgery at the Capital Institute of Pediatrics, Deng Jingcheng, director of the hospital's orthopedics department who performed the surgeries, said.
"The surgeries lasted four to five hours and were very successful," Deng said. "They may walk almost like normal children when they recover."
The five, who are aged from 3 to 6, suffer from a serious congenital condition that causes dislocated hips.
They arrived in Beijing with their parents on Thursday after being diagnosed in Damxung, Tibet, by doctors sent from the capital to assist local hospitals.
Hou Wenying, a doctor at the Beijing hospital who was a member of the team that went to Tibet, said: "We found quite a few children with the disease and advised their parents to take them to Beijing for better treatment. These five are the first group to get treatment."
Most hospitals in Tibet, including those in the capital, Lhasa, lack modern facilities such as anesthesia machines, and this makes it difficult for children with the disease to receive proper treatment, she said.
"These children should have been treated when they were much younger," Deng said. "Surgical techniques to treat the disease are quite mature, and there should be no problem for the children as they recover after surgery."
The local health authority in Damxung is covering all the expenses, including the cost of the surgery and fares to and from Beijing, through a government-funded program.
Tsering Yangjen, a 62-year-old herder from Damxung, accompanied her four-year-old granddaughter Dondrup Drolma to Beijing.
"I am very happy as my granddaughter will be able to walk again," she said.
She has another granddaughter aged 6 who suffers from the same disease.
"She had surgery at a hospital in Lhasa a few years ago, but the it was not successful, so I took the doctors' advice and brought my other granddaughter here.
"After she recovers I will support her education until she finishes college so she can become a civil servant. She will not be a herdswoman like me."