China mulls family abuse law
China Daily, November 26, 2014

Adjust font size: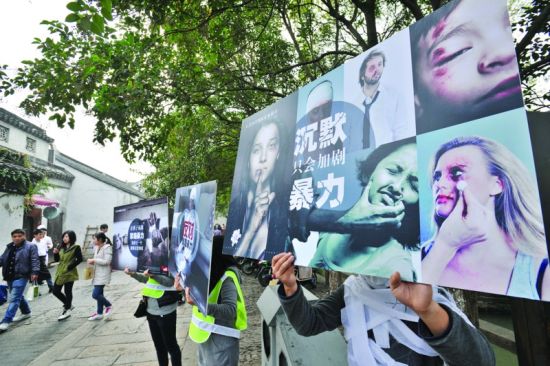 The Chinese government is soliciting social feedback on the country's first draft for a national law on family violence in a bid to combat domestic abuse and raise public awareness on the traditionally hushed matter.
Social organizations and individuals have the right to dissuade, bar and report physical and psychological abuse from within the victims' family. Governments at all levels will allocate special funds to combat family violence, according to the draft law, published by the Legislative Affairs Office of the State Council.
Police authorities are obliged to step in immediately once such reports are filed, the draft said, adding that the victims could apply for special restrictive measures against their abusers, such as restraining orders, to protect their safety.
Meanwhile, the abusers would receive written reprimands in minor abuse cases or face criminal charges in line with China's current laws and regulations in serious cases, the draft said.
China's regulations governing offences against public order stipulate that those who abuse their family members would receive warnings and could be detained for up to five days at the request of the victims.
They could also face criminal detention, public surveillance and a prison sentences of up to two years in extreme circumstances under the country's criminal law, or a fixed-term imprisonment of up to seven years should their abuses lead to serious injuries or deaths.
China does not have a specialized law on family abuse, although a number of national laws and regulations - including the marriage law, the law on the protection of minors and the law on the protection of the rights and interests of women - have made references to the matter.
Family violence has remained in the shadows for a long time in China, where the culture holds that family conflicts are embarrassing private matters.
A 2010 survey conducted by the All-China Women's Federation and the National Bureau of Statistics said 33.5 percent of girls and 52.9 percent of boys polled had received "physical punishments" from their parents in a 12-month period that year.
A report by China Central Television (CCTV) on Tuesday cited another survey saying 13.3 percent of Chinese elders suffer from abuse by family.
According to the draft law, social aid organizations, primary and middle schools, kindergartens and medical institutions must report to authorities cases of family abuse and could bear legal liabilities should they fail to do so in a timely manner, resulting in "serious consequences".
Government, judicial and other related authorities must also provide medical treatment, legal aid and judicial assistances to family abuse victims, and should protect the victims' rights in terms of property division and child custody should domestic violence leads to divorces.
The law also applies to foster homes, the Legislative Affairs Office of the State Council said. They specified the rules do not cover those only in a relationship but not married, cohabiting couples or those who are already divorced.
According to the Office, members of the public can voice their comments on the proposal before December 25.