UN official: China should get rid of one-child policy
china.org.cn / chinagate.cn by Zhang Lulu, November 25, 2014

Adjust font size:

China should get rid of its one-child policy as its demographic dividend is diminishing, said Arie Hoekman, United Nations Population Fund (UNPFA) representative to China, in Beijing on Monday.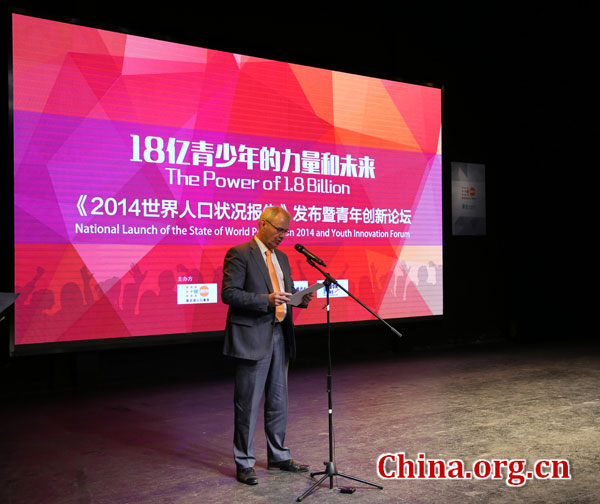 Arie Hoekman, United Nations Population Fund (UNPFA) representative to China, delivers a speech on the national launch event of a UNPFA report in Beijing on Monday. [China.org.cn/Zhang Lulu]
The "demographic dividend" is a phenomenon that occurs when a country's working age population is larger than the dependent and younger population, according to the "State of the World Population 2014," a report published on Nov. 18 by the UNPFA, which held a national launch in Beijing on Monday.
China's miraculous economic growth over the years has benefited from its demographic dividend, but there are concerns that the dividend is diminishing, as the country is seeing a lower fertility rate and a smaller labor force but an ever-increasing aging population.
According to Hoekman, there are now nearly 278 million young people aged 10-24, the largest population in that age group in China's history and in the world, yet the average size of families in China is only 3.02 on average, the lowest in the country's history. The total fertility level has been far below the replacement level for decades (the number of children a woman needs to have to ensure the population replaces itself), and China is becoming an aging society.
"China should have social conciliatory policies to allow couples to decide the number of children they would like to have, and I think you should get rid of the one-child policy," Hoekman said.
China loosened its one-child policy in 2013 to allow couples to have more than one child as long as one of the parents is a single child, but the outcome so far is unpromising and there is still a lot of debate about whether or not to eradicate the policy completely.
There are fears among Chinese policy-makers, the academia and the general public that eradicating the one-child policy in its entirety might lead to uncontrolled fertility and a population boom, but Hoekman dismissed the fear, saying that people are now not willing to, and nor can they afford to have more children, as raising children has become increasingly expensive and costly (a woman may lose her job to give birth to and raise children).
Hoekman suggested that China should introduce social policies to give couples freedom of choice when it comes to having children. China should also lower the social cost for parents to raise children and give couples access to family planning such as contraceptives, he added.
Huang Wenzheng, a researcher on population dynamics in China and who also attended the launch event on Monday, said that for China to come back to the replacement level, each couple should have 2.2 children, roughly twice the current figure.