Forbidden City more welcoming
China Daily, November 25, 2014

Adjust font size: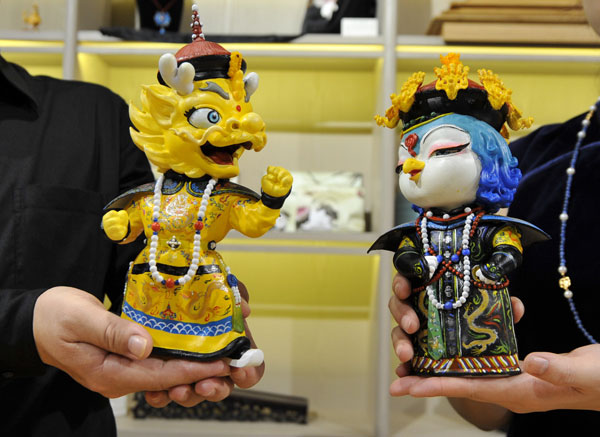 The Palace Museum unveils its dragon and phoenix mascots Zhuangzhuang and Meimei on Sunday. PROVIDED TO CHINA DAILY
Beijing's Palace Museum to open online mall
The 600-year-old Forbidden City is seeking innovative ways to cater to the younger generation and reshape its public image.
On Sunday, the Palace Museum introduced new mascots based on the traditional Chinese symbols of the dragon and the phoenix.
They are named Zhuangzhuang and Meimei, meaning strong and beautiful in Chinese.
Feng Hui, head of the cultural service center of the museum, said they hope the mascots will be well received by the public and spread Chinese culture to the world.
Designing the mascots took more than 10 months. Their costumes are from the Qing Dynasty (1644-1911), and in the future it's expected more mascots will wear costumes from other dynasties.
Other eye-catching products the museum has promoted include stereo earphones that look like a string of beads and jewels indicating the rank of officials during the Qing Dynasty.
"The museum is part of the civil service, which is presumed to be indifferent to customers' special needs," said Wu Dongwei, deputy general manager of Linkage Communication. "The image of the Palace Museum before was ancient, conservative, decent and perhaps boring, but now it is becoming very cute."
"People would never expect the museum to make such a change."
According to Shan Jixiang, director of the Palace Museum, income last year from such innovative products exceeded 600 million yuan ($97.8million).
Shan predicted the income this year will surpass 900 million yuan. The museum will launch its online shopping mall on Jan 1.
"In the past, the cultural products of the Forbidden City were basically about replicas of calligraphy and porcelain and just heavy books," said Shan during an interview with Xinhua News Agency.
"We worked very hard. And we have become more active. We have monitored the trend of new media and recruited more talent in this field.
"Youth is the future."
Shan said that the museum has been thinking about how to communicate with people, and how to connect innovative minds and cultural heritage with people's practical needs and tastes.
"To persuade visitors to 'take the Palace Museum home', we have done everything we have to do," added Shan. "But we have all kinds of visitors, so we still have some difficulties meeting the diversified demand."
Shi Dingguo, a professor at Beijing Language and Culture University, said she thinks Shan is passionate about his work and has brought a lot of energy to the management team.
"Other museums should learn lessons from the Palace Museum," Shi said.