Major hydroplant goes operational in Tibet
Xinhua, November 24, 2014

Adjust font size: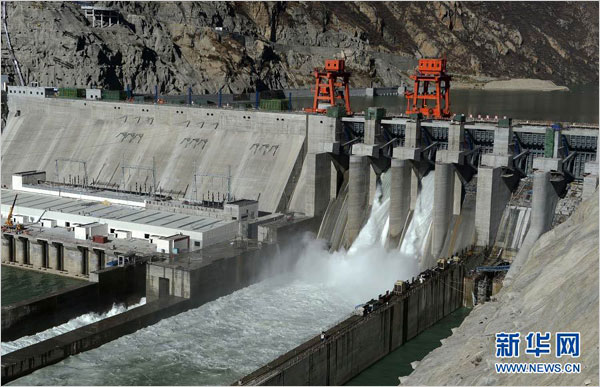 Photo taken on November 22, 2014 shows the Zangmu Hydropower Station in southwest China's Tibet autonomous region. [Photo: Xinhua]
Tibet's largest hydropower station became partly operational on Sunday, harnessing the rich water resources of the Yarlung Zangbo River to empower the development of the electricity-strapped region.
The first section of the 9.6 billion yuan (1.5 billion U.S. dollars) Zangmu Hydropower Station, which is over 3,300 meters above sea level on the "roof of the world", went into operation Sunday afternoon with five other sections due for completion no later than next year.
The huge project, which straddles the middle reaches of the roaring Yarlung Zangbo River, will have power capacity of 510,000 kilowatts after its four-year construction. It is designed to generate 2.5 billion kilowatt hours of electricity annually.
Official statistics showed that Tibet's per capita electricity consumption in 2013 was slightly over 1,000 kilowatt hours, less than one third of the average in China.