Hearing on higher public transport costs held
chinadaily.com.cn, October 29, 2014

Adjust font size:

The public hearing on proposed price changes to ride Beijing's subway and buses started at 2:30 pm on Tuesday, with many residents voicing their support for the price increase.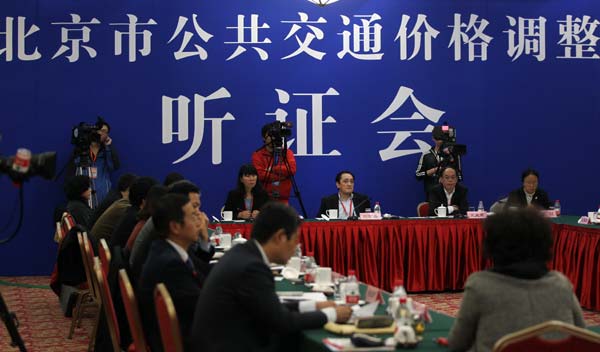 A public hearing on proposed price changes for Beijing public tranportation system is held in Beijing, Oct 28, 2014.[Photo by Zou Hong/asianewsphoto]
Beijing decided to increase the ticket prices for its public transportation system, since the growing number of passengers and increasing budget from the government have affected the smooth development of public traffic and requires the price changes. The last increase was seven years ago.
There have been two plans for metro and bus ticket prices, which will be decided after the hearing. And the new prices will be adjusted every year and every five years based on various factors, including economic growth, fuel charges, income growth and other social situations.
At least 10 participants had expressed their opinion in the hearing's first two hours and said they supported the increase of the tickets. The remaining 15 participants will have the chance to comment and give suggestions gradually.
Most of 10 who spoke supported the second plan, which calls for increasing the starting price for a single journey on the subway 2 yuan to 3 yuan, with the highest charge for a single journey reaching 9 yuan. And the price for a journey in bus will start from 2 yuan and the highest charge reaching 9 yuan, but the bus ticket will have a half discount.
A representative named Duan Shuzhen has conducted a survey covering 310 residents in Beijing, saying at least 70 percent of them agreed with the second plan.
All 25 representatives from the consumers, experts, members of National People's Congress in Beijing - the city's top legislature, deputies from the Chinese People's Political Consultative Conference - the city's political advisors, and officials from concerning bureaus attended the hearing.
The final decision on the price changes will be decided based on the opinions and suggestions in the hearing, and is expected to be released in several weeks.