Clinic hands out needed care at high altitude
China Daily, October 22, 2014

Adjust font size: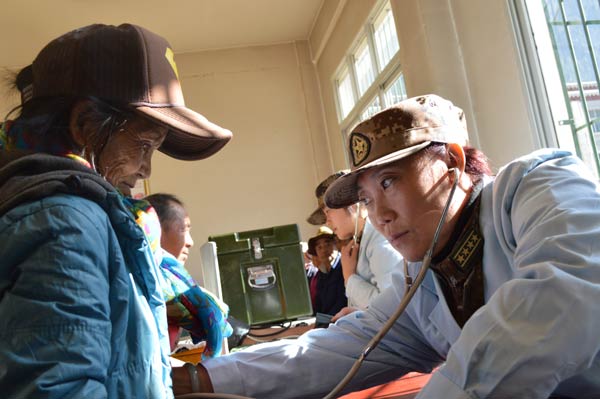 Military doctor Cui Shuhua (right) checks a local resident in Zhamo on Tuesday. Because of the poverty in the area, a special fund was set up to cover needy people's medical expenses.  Wang Xu / China Daily
Cutting through harsh geographical conditions at lofty elevations, the 2,115-kilometer-long State Highway No 318 is considered the most beautiful yet most dangerous road in China for travelers driving to Tibet, as it winds around 21 mountains and crosses 14 major rivers.
Yet the doctors and nurses at a military clinic in Zhamo, Bome county, have made a difference and won hearts along the highway that reaches altitudes of 4,000 meters.
"Although we make everyone count in dealing with sickness here, we have to admit that medical conditions are very poor here in Tibet," said the 54-year-old head of the clinic, Cui Shuhua, who has worked in Zhamo for 10 years. "The most we can do in the clinic is carry out appendicitis operations. There is no blood bank in the whole of Nyingchi prefecture."
Established in 1983, the military clinic belongs to a transport regiment of the Chengdu Military Area Command. With 13 doctors and four nurses, the rather small clinic has eight departments, including internal medicine, surgery, gynecology and urology.
"Before the clinic was founded, people could only go to mountebanks or resign themselves to their fate when they got sick," said Wan Yonggang, an official from the local civil affairs bureau.
Currently, 46 people live in the nursing home in Bome county, with hypertension and heart disease among the most common diseases.
Xiong Gang, a 45-year-old doctor at the clinic, said, "Living in the high-altitude area for a long time can lead to hypertension. Everyone over 35 years old in our regiment got hypertension, without exception."
Xiong's Tibetan friend, A Deng, came to the clinic when he heard Xiong would be giving out free health checks.
The 39-year-old A Deng said Xiong had taken good care of him since 2012, when he was crushed in a car accident. Knowing A Deng was desperately poor and living a nomadic life far from town, Xiong did not charge him a fee.
"Some residents of mountain areas are really poor," said Cui, the clinic's head. "That's why we set up a fund to help those in desperate poverty. The money is usually donated by our soldiers or allocated directly from the Chengdu Military Area Command."