The secret of China's nuclear reactors
china.org.cn / chinagate.cn by Li Jingrong, October 22, 2014

Adjust font size:

"Science Island," a small island in the northwestern suburbs of Hefei in Anhui Province is famous not only for its beautiful scenery but also for its contribution to scientific knowledge as the home of the Institute of Nuclear Energy Safety Technology (INEST) under the Chinese Academy of Sciences.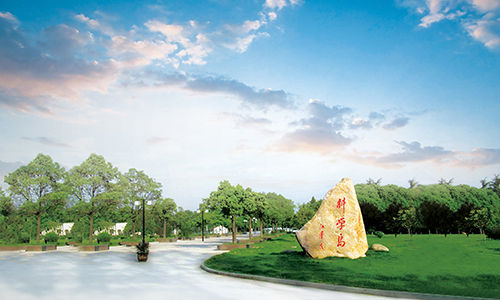 Science Island 
In a recent interview with Global People, INEST Director Wu Yican talked about the work of the institute and the development of the nation's nuclear reactors, as well as their impact on the environment and society.
Wu said the first scientists arrived on the island in 1965 and started to build the base for nuclear research and development. However, it did not gain an official name until Sept. 28, 2011 when an unveiling ceremony was held.
Wu was born in 1964 into a farmers' family in Anhui Province. In 1981, he enrolled in Xi'an Jiaotong University in Shaanxi Province, majoring in nuclear physics. In 1988, he joined the island-based Institute of Plasma Physics under the Chinese Academy of Sciences (CAS) to work on his doctorate.
As head of a series of nuclear projects, Wu and his colleagues worked on early applications of nuclear fusion for many years as well as overcoming nuclear pollution and preventing nuclear proliferation.
"The government has given top priority to nuclear safety, especially since the Fukushima [Japan] nuclear accident," said Wu, who put forward a "sub-critical reactor concept," achieving efficient nuclear waste handling and multiplied nuclear fuel and production capacity at the same time.
As he explained, to achieve long-term, efficient and safe nuclear energy development, three issues are crucial – having sufficient nuclear fuel, guaranteeing nuclear power safety throughout the whole process and nuclear waste disposal.
Wu said the number of the INEST scientific researchers had increased to more than 400, from less than 30 initially, with an average age of 29. In the past three years, they have published more than 200 academic papers, applied for more than 50 national invention patents and won 20 national scientific research prizes.
Speaking of the impact of nuclear radiation on human beings, he said the state had issued strict safety standards. As long as people did not have close contact with radioactive elements, they would not suffer any harm.
Wu gave an example of the Dayawan Nuclear Power Station located in Shenzhen, in south China's Guangdong Province. The amount of radiation absorbed by nearby residents was about 0.01mSv per year, far below the amount of radiation absorbed in a CT check (about 8mSv per exposure), according to calculations by the China General Nuclear Power Group.
"That means the amount of radiation a person will absorb over a span of 800 years near a nuclear power station is equivalent to the level in a single CT check," he said, assuming there is no nuclear leakage.
Nuclear power is important, as the nation's energy supply cannot keep up with economic development. "Coal causes carbon dioxide and smog. Windmills and solar panels also produce pollution, and their low energy density is not suitable for large-scale industrial applications. So far, only nuclear energy offers large scale development."
Currently, more than 30 countries have developed nuclear energy, with the number of nuclear reactors reaching 400 in the past 70 years. There have only been three major nuclear accidents during this period – Three-Mile Island in the United States in July 1979, Chernobyl in the former Soviet Union in April 1986, and Fukushima in Japan in March 2011.
Compared with the Dayawan facility, the nuclear power station China is about to build will adopt third generation nuclear technology, with a design concept of "non-active safety" – meaning it requires no human input. Once there is an accident, it will automatically shift to safe mode.
Wu also revealed that China is developing fourth generation nuclear technology, placing an even greater emphasis on safety, according to the basic rules. Wu's team calls the technology "inherent safety," stressing sustainable development.
"One of the characteristics of the fourth generation technology is that nuclear waste can be recycled, or it simply has no strong radioactive tailings at all."
There are currently more than 20 nuclear reactors operating in China, and the figure is expected to reach 100 by the year 2020, equaling the United States. "China's nuclear power started late, but our imported nuclear safety facilities and technology are among the best in the world," said Wu.
"China's nuclear facilities have been safe so far. On this basis, we are developing advanced nuclear safety technology with independent property rights," he said, citing the KYIN-II loop - the first multi-functional lead-bismuth comprehensive experimental platform ever built in China.
The platform scale, design parameters and the experimental capabilities of the KYIN-II loop have reached an advanced international level, and its successful research and development is an important milestone for China's nuclear industry, Wu said.
Nuclear safety is also an issue of social education, he went on to explain. "There are less than 1,000 people engaged in nuclear safety education in the country. We hope that more popular science articles in this field will be published, and more related activities can be held, to give people a better understanding of nuclear safety," he added.