Hebei to lower emissions during APEC conference
Xinhua, October 21, 2014

Adjust font size:

Hebei province will halt a series of polluting projects and take other measures to improve air quality during the upcoming APEC conference.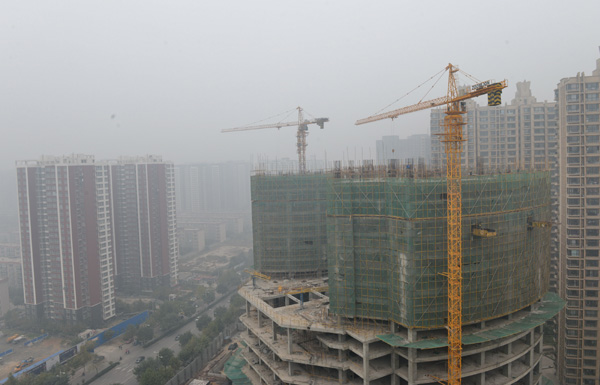 Construction work is to be curtailed to reduce smog in Shijiazhuang, Hebei province--which was shrouded on Monday--and Beijing. [Photo/Xinhua]
Representatives of foreign countries, including government officials, journalists and business leaders, will gather in Beijing to attend the 2014 Asia-Pacific Economic Cooperation Summit next month.
To ensure these guests can inhale fresh air, the capital's neighboring Hebei province, often the site of seven or more of the nation's top 10 polluted cities, will halt a series of construction projects that emit pollution. From Nov 3 to Nov 12, the province will order work halted at 881 sites involving excavation, demolition, waste transportation and similar activities that generate dust.
Other construction operations will be cut by half, as required.
Outdoor barbecues and waste incineration will also be banned during the period.
If air quality should continue to deteriorate, another 1,564 construction sites in the province will be shut down completely, according to a government guideline.
Beijing and Hebei were hit by intense air pollution earlier this month, and the Ministry of Environmental Protection blamed six cities in the province for failing to take adequate measures to cope with the problem.
But there are still doubts about whether the province can ensure the smooth implementation of these measures.
Under the guideline, the province will dispatch a group of officials to inspect the pollution-control work.
Yin Guangping, deputy director of the provincial Environmental Protection Bureau, said on Monday that Hebei will cut emitted pollution by 30 percent and inspectors will supervise the sites 24 hours a day.
Ma Zhong, dean of the Renmin University of China School of Environment, said air quality was closely watched during important events such as the 2008 Olympic Games and the recently closed Youth Olympic Games in Nanjing.
Ma said in a report on news website The Paper that the plans to fight air pollution should become normal and long-term.
Some Internet users complained that hazardous air pollution cannot be mitigated if these tough measures are only implemented during important meetings.
A Beijing resident going by the name of Xiao Nan'er on the messaging app WeChat said "these short-term measures are superficial and useless for the improvement of our environment".
Other netizens agreed governments only enforce tough measures to control air pollution during important events.
A 30-year-old named Feng from Shijiazhuang, capital of Hebei province, said some residents complain about the bad air when there is smog, but they defy regulations when they are required to stop driving on the road.
"Without the cooperation of every citizen, how can the measures be smoothly implemented by the government?" Feng asked.
Environmentalist Zhao Liang said in The Paper's report that controlling air pollution should be a normal action required by law and with everybody's participation. A special and short-term campaign cannot eliminate pollution entirely.
Pan Jingquan, an official at Hebei's environmental protection department, told the news outlet that although Hebei faces great pressure to curb pollution, it did good work during the 2008 Olympic Games and is confident it will implement the smog-fighting measures as required this time.