China unveils rule to curb research funds misuse
Xinhua, October 21, 2014

Adjust font size: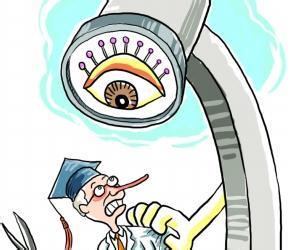 China will reform state research fund management, delegating power to independent institutes in a bid to curb academic corruption and sharpen innovation.
The government will no longer be in direct charge of research projects. Instead, professional institutes will manage state funding in a transparent manner, according to a new rule that will be unveiled soon by the ministries of science and technology, and finance.
China already has such agencies, including the National Natural Science Foundation that was established in 1980s, said Zhao Lu with the Ministry of Finance. He said more professional institutes will be set up.
"All the organizations should be professionally qualified for managing research projects. Meanwhile, an effective supervision mechanism is needed," Zhao added.
Academic corruption has been seen in China's universities and research institutes, where misuse of government funds are common.
According to the latest report, Li Ning, a leading scientist in transgene biology and a member of the elite Chinese Academy of Engineering, was arrested for suspected misuse of state funds in his research project on new transgene biological species.
He was among seven professors from five Chinese universities found obtaining over 25 million yuan (4 mln U.S. dollars) of state funds by false means, according to the Communist Party of China Central Commission for Discipline Inspection.