Be With the Old to Eternity
chinagate.cn by Ai Guanxiong, October 14, 2014

Adjust font size:

Haojigou, a small village located in the mountains of Chengde County in Hebei Province, has twice been listed as one of the province's most destitute villages which receives extra support from the government.120 families in this village are identified as "impoverished." More than 100 young men and women leave their homes in the village to work in other places all year long, but their parents cannot go with them. These left-behind elderly people live hard lives, often becoming the caregivers and caretakers of the homes of their migrant children.

In 2010, a 6-acre nursing home named Yulong Happiness Homeland Villa was built up in this poor village. The home's owner, Ding Yulong, was born in Haojigou in 1956 and left this small village together with his parents to "brave the journey to the Northeast" 50 years ago. Through his own efforts and savings over the years, he became a multi-millionaire with a far-ranging reputation. But he didn't forget his hometown.

In September, 2010, he set up the nursing home and began supporting 43 empty-nest elders with a 5 million yuan (US$0.81 million) investment.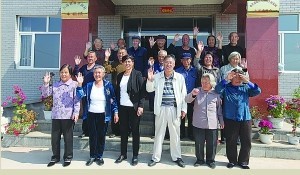 Ding Yulong, warden of Yulong Happiness Homeland Villa (3rd from the right) and his "fathers and mothers." [File photo]
Ding makes use of his experience managing enterprises in northeast China to run the nursing home like a standard company. He has also drawn up specific regulations, especially rules on fire-prevention, food safety and security of the home's elderly residents.