Wooden homes help keep quake casualty figures down
China Daily, October 9, 2014

Adjust font size:

Wooden houses spared an earthquake-prone area in Yunnan province from a higher number of casualties following a quake on Tuesday night, according to a provincial official.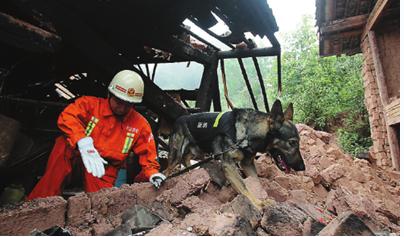 A rescue worker and tracker dog seek survivors among debris in Jinggu county, Yunnan province, on Wednesday. A magnitude-6.6 earthquake hit the county on Tuesday night, killing at least one person and leaving hundreds injured. [Photo/China Daily]
Huang Fugang, director of the Yunnan provincial earthquake administration, said on Wednesday that the houses are mainly made from wood and have a good chance of withstanding earthquakes.
The magnitude-6.6 quake, with a depth of 5 km, struck at 9:49 pm on Tuesday. At least one person was killed and 336 others were injured. The casualties were reported mainly from Jinggu county, the quake epicenter.
Forest covers more than 70 percent of the area, which is not densely populated, and this lessened the damage caused by the quake, said Huang.
Dao Qiongfen, 58, died after being hit by bricks falling from a barn where she was working, according to her husband, Dao Wenguang.
Zhang Jingqing, a barbecue restaurant owner in Jinggu county, said many of his customers fled after the quake struck.
"We heard a weird noise coming from underground at first and then the earth started to shake, making it impossible to stand still," he told China Daily, adding that he had been "really frightened".
Yang Jingmei, 30, who lives in Xinzhai, a village in Yongping township, said she and her family had to sit by the roadside on Tuesday night after their house was badly damaged.
Many people were dancing in a square when the quake happened and a large number of them fell to the ground, she said.
Yang said rebuilding work should start as soon as possible because it is too cold to live in tents.
The Yunnan provincial government launched the highest level of emergency response and introduced traffic controls in the quake-hit area.
President Xi Jinping ordered the provincial government to make every effort with the rescue work.
Premier Li Keqiang urged local authorities to monitor aftershocks closely, save the injured, help survivors to resettle, and release information quickly. The Chengdu Military Area Command sent rescue forces and two helicopters to the area.