Environmental study before building offshore airport
CRI, September 18, 2014

Adjust font size:

Officials in the city of Sanya on Hainan are being criticized for their plans to build a new airport, which some say is going to be too costly and potentially damaging to the environment.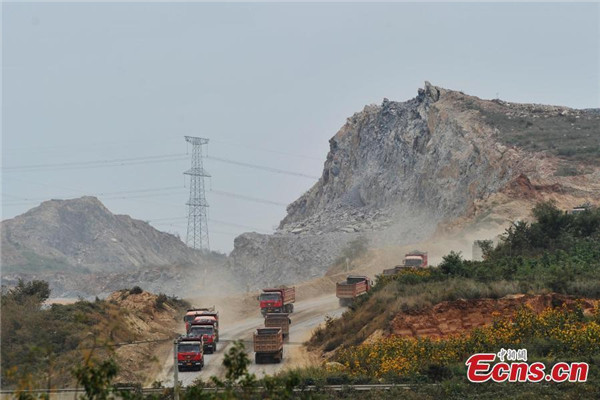 Heavy duty trucks are used to transport earth and stones removed from mountain to construction site of an offshore airport in Dalian, Northeast China's Liaoning province on September 14, 2014. [Photo/CNS]
Authorities in Sanya are considering building a new airport by reclaiming land from the sea to cope with the massive influx of tourists to the southern island resort.
Building airports using reclaimed land is not a new concept.
Airports have been built through this method in the UK and Japan, both of which have little land to work with.
But Aerospace Knowledge editor-in-chief Wang Yannan says building an airport through reclaimed land is never a simple process, and needs a large investment.
"An airport's major facility is its runways, which are heavily used. For example, after the construction of Japan's Kansai airport was completed in 1987, they had to cope with the settlement of the runway, which is getting serious year by year. Because the airport is built on the sea, the muddy seabed is giving way to the weight of the runway. Japan has to pour in large amounts of money to maintain the facilities."
He also notes many international airlines don't like to fly into Kansai because of its high operational costs.
While Sanya is being criticized for its newly-proposed project, construction of another airport being built on reclaimed land is already underway in the northern port city of Dalian.