At least 10 dead in SW China rainstorms
Xinhua, September 15, 2014

Adjust font size:

At least 10 people were killed after severe downpours battered southwest China's Sichuan Province and Chongqing Municipality, local authorities said on Sunday.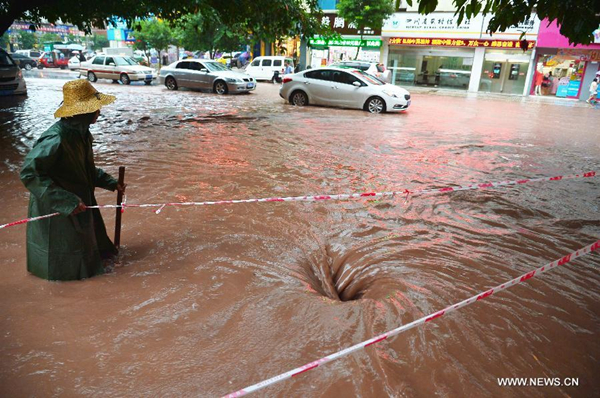 A rescuer works in flood in Guang'an City, southwest China's Sichuan Province, Sept. 13, 2014. [Photo/Xinhua]
Heavy rainfall hit Linshui, a county in Sichuan's Guangyuan City, from 3 a.m. to 9 p.m. on Saturday, causing disasters in 45 townships, said the county government.
As of Sunday, local governments had relocated more than 23,300 people to safer places and rescued 604 people.
The rain has affected about 2,694 hectares of farmland and thousands of livestock in the region. Search work is under way.
Continuous heavy rains have battered Sichuan since Sept. 8, leaving about 2.5 million people in nine cities in a state of disaster and forcing 160,000 among them to relocate to avoid risks, said the flood control headquarters of Sichuan.
The rainstorms have collapsed about 8,200 housing units in the province and brought flood peaks to some major rivers.
In the neighboring Chongqing Municipality, landslides triggered by continuous rainfalls have killed at least three people, and at least another 8 people were still missing.
In the worst hit Changshou District of Chongqing Municipality, precipitation reached 200 mm. More than 60,000 people were affected by the rainstorms and 8279 local residents have been evacuated as of 7 p.m. Sunday, according to local authorities.
Heavy rain will continue to batter southwest and central China, the National Meteorological Center (NMC) forecast on Sunday.
Torrential rain will hit Sichuan, Chongqing, and Shaanxi from Sunday afternoon to Monday afternoon. The northeast part of Sichuan will see rainstorms with precipitation of up to 120 mm.
The NMC maintained a blue alert for downpours in the country's western regions, which have seen substantial rainfall in the past week.