Restaurant owner donates corneas
China Daily, September 9, 2014

Adjust font size:

The owner of a noodle restaurant in Zhengzhou, Henan province, donated his corneas to thank his restaurant patrons for helping him in his fight with cancer before he died on Sunday.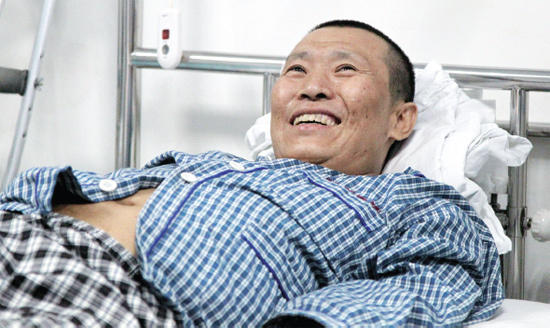 Restaurant owner Li Gang donates corneas after death
Last year, Li Gang was diagnosed with bone cancer and needed to raise at least 200,000 yuan ($32,600) for surgery. To raise money for the hospital bills, the 44-year-old posted a plea online asking people to have dinner at his restaurant.
"I was diagnosed with bone cancer recently and am quite depressed," he wrote in the post. "I hope netizens who live in Xijiao district come to my restaurant if you are out for dinner. ... I have a daughter younger than 3 and am suffering financially."
Li's plea was soon forwarded and commented on by thousands expressing their support. Customers traveled from all over the region to eat at his restaurant, some paying 50 yuan to 100 yuan for a 10-yuan bowl of noodles. Some also volunteered at the restaurant to clear tables and wash dishes.
After raising the money, Li underwent surgery several times this year. In stable condition and seemingly recovered, he set Jan 23 as an annual occasion for customers to have a free bowl of noodles at his restaurant to thank his kindhearted patrons.
But in June, his condition began to deteriorate. He died on Sunday. Before his death, he said he would donate his corneas to a local hospital to thank patrons for their support.
Du Xiaofeng, of the Henan People's Hospital's eye-donation bank, said Li's eyes are suitable for transplantation.
"I bowed to Li three times after I finished the operation (on his eyes). It's my simple farewell ceremony to Li and I wanted to show my thanks to Li's great love, " Du said.
Li's wife, Jing Xiaomin, said she supported her husband's wish to donate his corneas.
"Though he is dead, he can still have something left in the world. We haven't found a match for Li's corneas yet," Jing said.
The 29-year-old said she has not had enough time in the past six months to run the restaurant because she had been caring for Li.
She said she owes 108,000 yuan in medical fees but hopes to pay back patrons who donated funds to help pay for Li's surgeries.
Li's body will be cremated on Tuesday morning.