Red Cross dismisses its 'fire marshal'
Xinhua, September 3, 2014

Adjust font size:

A woman who had fought to restore the reputation of the Red Cross Society of China for three years after the Guo Meimei scandal has been removed from her post as executive vice president, the charity announced yesterday.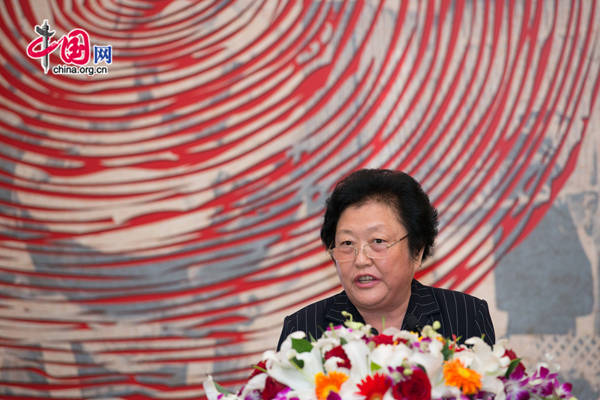 Zhao Baige, Vice President of RCSC, tried to clarify that charity was a "only one very important part of the work of the RCSC, which also takes responsibility for providing assistance in case of wars, conflicts and natural disasters," in a clear attempt to save her agency's reputation. [Photo by Chen Boyuan / China.org.cn]
In April last year, Zhao Baige vowed: "If I can't change your 'Black Cross' impression in two to three years, I will resign from my post."
But she has gone before her deadline.
In a statement, the charity said it appreciated Zhao's hard work over the past three years but gave no reasons for her removal.
The Red Cross Society has been battling public mistrust ever since 23-year-old Guo, who claimed to be the head of an organization linked to the charity, posted photographs online flaunting her wealth in June 2011.
Zhao, 52, took office four months later, and it was understood her task was to pull the charity out of its credibility crisis. She was dubbed "the fire marshal."
During an online forum after she was appointed, Zhao said: "As a charity with a history of 107 years, why has it been impacted so much just because of a young woman? I am so shocked."
She said the charity had achieved much, especially over the past decade, only for an "unconfirmed online rumor" to damage its reputation in a matter of months.
An official investigation soon ruled out any link between Guo and the charity. But the incident triggered calls for greater scrutiny.
In August 2012, Zhao told reporters an efficient, transparent and standardized system of management, information and supervision would be established in three to five years.
However, accusations kept emerging, including allegations of exaggerated expenses and demands for money from hospitals.
The latest scandal was last month when it was reported that the society had leased a warehouse in Beijing designed to store emergency relief supplies to logistics companies.
Zhao said the money had been used to pay employees' wages. "I don't want to compare the RCSC to a young girl from a good family who is forced to sell sex, but we are facing problems," she told news portal www.qq.com back then.