Salary hike guidelines set for Xinjiang
China Daily, September 1, 2014

Adjust font size:

The Xinjiang Uygur autonomous region has released it annual basic guideline for workers' salary increases, with the basic line at 15 percent and no more than 18 percent and no less than 5 percent. Each of the figures is 1 percent lower than last year, and the basic line is 4 points higher than last year's GDP growth.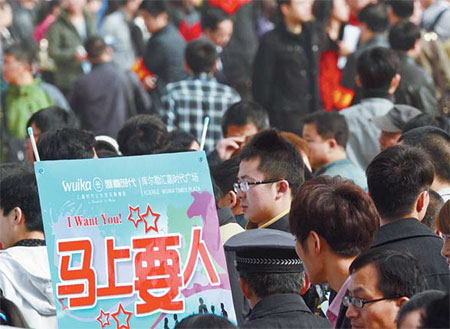 A job fair was held in Kuerle, Xinjiang Uygur autonomous region in March. More than 120 companies offered 2,000 jobs covering marketing, design and management. Que Hure / for China Daily
The index is for reference when employees negotiate their salary with company owners, an official of the Xinjiang Human Resources and Social Security Department said at a press conference.
The department requires prefectures of the region to timely publicize the local basic line in accordance with economic factors, including labor costs.
Despite having the highest increase in the basic line and rising income for urban and rural residents in the region, the total income of Xinjiang residents is still lower than inland provinces, said Qin Bo, a researcher for the Xinjiang Development and Reform Committee.
He suggested that the central government subsidize people working in frontier areas to narrow the income gap between Xinjiang and inland provinces.
"At present, the salary income for urban families accounts for nearly 72 percent of the families' total income," Qin said, "A rational salary increase system is important for them."
However, the high rate of increase year-on-year is not acceptable to companies.
A worker with an annual salary of 50,000 yuan ($8,000) will see his income surpass 100,000 yuan in five years if the annual increase rate stays at 15 percent.
Xiong Li, vice-general manager of Hubei Yihua Group Co Ltd, said his company can follow the basic guideline of 15 percent for employees at its Xinjiang branch on average, but then the company must count in probation enrollment, promotion and a longevity pay raise.
Data from the department showed that, from 2010 to 2012, the annual average salary growth of urban workers was 17.4 percent, to 41,642 yuan from 29,593 yuan. In 2013, the figure was 49,843 yuan.
The basic guideline for Henan province is also15 percent. In addition to Xinjiang, some regions decreased the figure compared with last year.
Zhang Chewei, an expert from the Chinese Academy of Social Sciences, said that the decrease is caused by the lower growth of the economy, an increase in labor costs and lower profits for companies.
"This may put more pressure on enterprises when they consider a salary increase," said Zhang.
Dong Xing, a 32-year-old manager who owns an IT company in Urumqi said he couldn't follow the new guideline because his profit was counted at the end of the year. "I gave each one 18,000 yuan as a yearly bonus, about 30 percent more than the year before," he said.