Foreign-invested companies losing luster
China Daily, August 25, 2014

Adjust font size: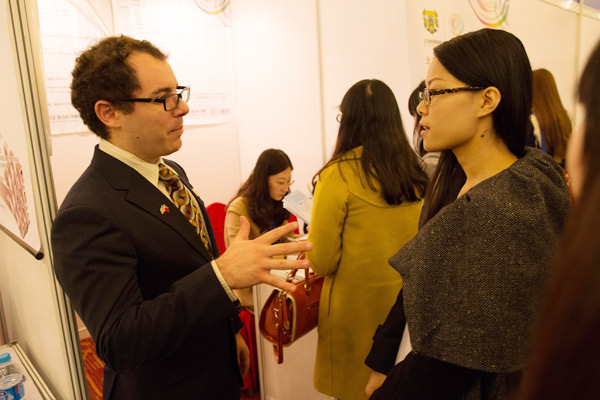 A job seeker (right) talks to a manager of a foreign-invested company at a job fair in November that was organized by the Ministry of Education exclusively for Chinese students who have overseas study experience. [Photo by Mao Yanzheng/China Daily]
A 30-year-old junior researcher at Procter & Gamble is unsure whether to stay with the company.
"I get paid well here, but it's hard to see my future in a creative way," said the researcher, who did not want his name used.
He earned his doctoral degree in the United States in 2012 and joined P&G immediately. But he doesn't enjoy the work.
"I am looking for more challenging and creative work," he said. He is applying for jobs with private companies and is looking for more freedom rather than "unlimited regulations and rules to follow".
In the past decade, foreign-invested companies have encountered difficulties attracting Chinese job seekers like this one.
According to employment reports released in late July and August by human resource companies ChinaHR.com and Horizon Research Consultancy Group, State-owned enterprises are now the most attractive employers for Chinese university graduates.
ChinaHR.com has conducted "best employer" surveys in China for more than 10 years. Its reports show foreign-invested companies were initially highly regarded, accounting for nearly 70 percent of the top 50 best employers in 2004. However, that perception declined and reached its lowest point in 2010, when less than 10 percent of respondents selected foreign-invested companies in the top 50.
This year, about 30 percent of the top 50 best employers are foreign-invested companies, ChinaHR.com reported.
The report from Horizon showed that foreign-invested companies accounted for 24 percent of the top 50 best employers in 2014, down from 38 percent last year.
Ma Ying, head of talent acquisition for the Human Resources Department of Siemens China, said the scarcity of talent is a general difficulty in China, and not only in foreign-invested companies.
"All types of companies, including SOEs and private businesses, have begun to notice a shortage in the market," Ma said.
Chinese job seekers now have more options, she said.
Ma said Siemens is aware that foreign-invested companies are less attractive for jobseekers than they were 10 years ago.
However, she believes each type of enterprise has its own solutions.
"For instance, if an employee is used to the atmosphere in foreign-invested companies, he or she might think twice about entering a private or State-owned company," Ma said.