Netizens doubt authenticity of Ice Challenge video
China Daily, August 25, 2014

Adjust font size:

Chinese philanthropist Chen Guangbiao denied that ice he used in the ALS Ice Bucket Challenge was fake.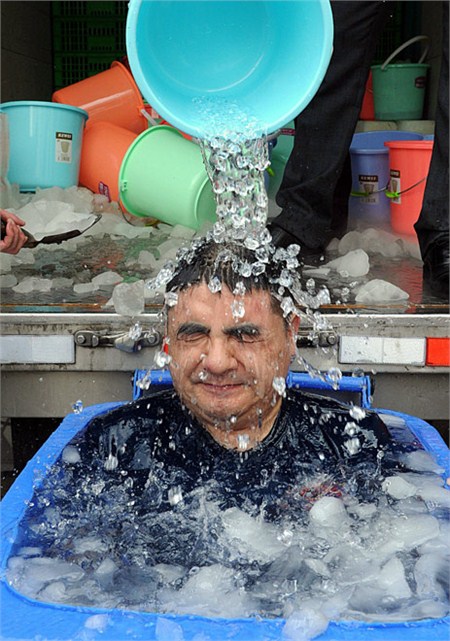 Netizens doubt authenticity of Ice Challenge video 
The philanthropist, who made his millions in recycling, uploaded an 11-minute video to his micro blog on Friday that showed him taking the challenge, which netizens worldwide have been taking to raise money for the treatment and research of amyotrophic lateral sclerosis, commonly known in North America as Lou Gehrig's disease.
In the video, Chen broke up a massive chunk of ice and then entered a garbage bin about 1 meter tall. His employees then poured more than 30 buckets of ice water with ice cubes of similar sizes and shapes onto him.
After pouring the ice water on Chen, his employees then put in the bucket some ice fragments that Chen had made from the ice block he had smashed.
According to commentary on the video, Chen stayed in the bucket for about 30 minutes.
Two boxes, one full of yuan and one of US dollars, were shown on the ground at the end of the video. A host said the money will be donated to ALS patients and to poor people.
"As to how much money there are in the two boxes, Biaoge asked to keep a low profile and not tell," the host said, referring to Chen.
The video was reposted more than 6,000 times and got more than 6,000 comments as of Sunday morning.
Many netizens doubted that the ice originally dumped on Chen was real because the fragments were similar in size and allegedly didn't float.
One netizen said people can survive for only several minutes in ice water, and suggested that the "ice water" poured onto Chen was really warm water with phony ice.
"The broken ice fragments of irregular sizes his employees put into the bucket were real. They put that into the bucket constantly as they melted in the warm water," the netizen said.
Chen denied that the ice was fake.
Chen didn't answer the doubt that people can only survive for a few minutes in ice water but he said he has a stronger body than ordinary people as he once practiced kung fu in a Shaolin temple.
Chen also declined the newspaper's request for the entire video.