'Leftover' men buy brides from Vietnam
Shanghai Daily, August 20, 2014

Adjust font size:

Their marriages were arranged for cash, but some of the Vietnamese women who have found unlikely Prince Charmings in remote Chinese villages say they are living happily ever after.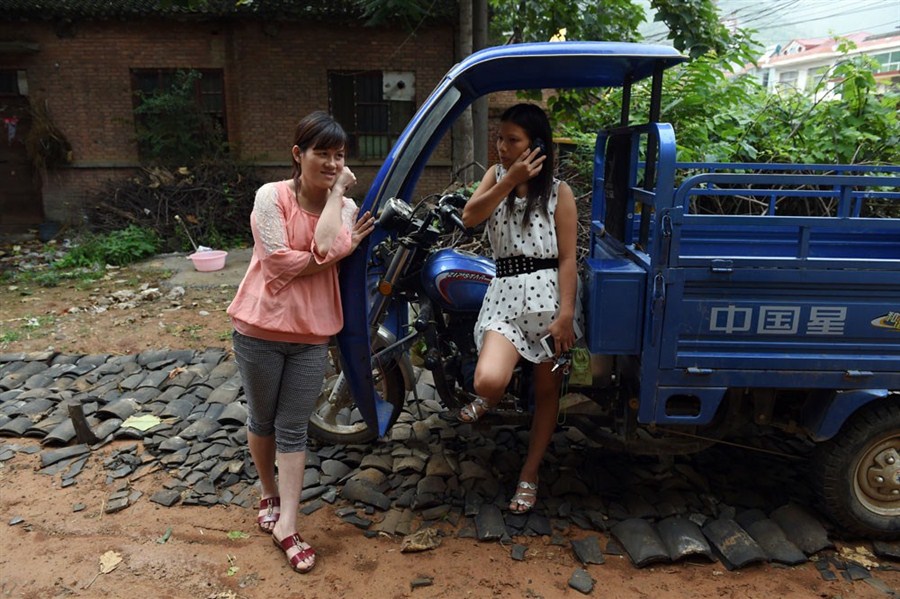 Vietnamese bride Nguyen Thi Hang (left) and fellow Vietnamese bride Vu Thi Hong Thuy share a moment in a yard behind the shop where Hang works in Weijian Village, in central China's Henan Province. More than 20 Vietnamese brides have found new lives in the poverty-stricken rural township.
"Economically, life is better here in China," said Nguyen Thi Hang, one of around two dozen women from Vietnam who have married men in Linqi.
The township is a patchwork of hamlets spaced among cornfields deep in the mountains of Henan Province in central China. It is 1,700 kilometers away from Vietnam, but it's a new market for an expanding marriage trade with Southeast Asia.
The business is fueled by demand from rural Chinese men struggling to find wives.
Hang, 30, arrived in Linqi last November and struggles to communicate with customers at the dusty village store where she sells noodles, cola and cigarettes.
But her basic living conditions — a tiny bedroom with bare concrete walls, and an outdoor long-drop toilet next to a cage of chickens — are an improvement on her previous home, she said.
"We lived in a bad-quality brick house in Vietnam and were farmers so had to work hard in the rice fields," she said.
Her marriage to a local 22-year-old was arranged by her family, she said, with small ceremonies held in her hometown, and China.
"I knew they gave my family some money, but I did not dare ask my parents about that," she said.
"My relatives told me to marry a Chinese man. They told me they care for their wives, and I wouldn't have to work so much, but just enjoy life," she said, smiling at a group of children buying sweets.
Her construction worker husband spends most of the year away from the village, but her gray-haired father-in-law seemed proud of the newest addition to his family.
"Vietnamese women are just like us; they do any kind of work, and work hard," said Liu Shuanggen. "It's not easy to find wives in this place. Women are few."
It is a refrain heard across China, where families usually prefer boys to girls; now 118 males are born for every 100 females, according to government statistics.
"To get married, the bride's family will often require a car and a house, so it's easier to get married if you have more money," said shopkeeper Wang Yangfang, adding: "In Vietnam, they demand lower prices."
The typical cost for a Vietnamese woman is 20,000 yuan (US$3,200), Linqi residents said — less than a quarter of the local price, and such a bargain that more than 20 Vietnamese women have found homes in the area in recent years.
But the trade is also rife with abuses.
At a shelter in Vietnam, a dozen girls said they were tricked by relatives, friends or boyfriends and sold to Chinese men as brides.
Myanmar's government said in a 2011 report that most trafficking from the country is "committed solely with the intention of forcing girls and women into marriages with Chinese men."
Chinese police "rescued and repatriated" 1,281 abducted foreign women in 2012 alone, most of them from Southeast Asia, according to a recent news report.
Experts say lax law enforcement in rural areas means thousands of other cases probably go undiscovered.
In Linqi, several families refused to talk about their Vietnamese members, with one woman identified as being from the country shooed indoor when reporters arrived. A driver pointed out a tiny settlement nestled between intimidating peaks as a destination for bought women.
"When they arrive they'll run off after a few days," he said. "But it's not easy to run from here, because it's so mountainous, and the hills are full of relatives.
"If you go missing, the relatives will contact each other and bring you back."
It is impossible to say how many of the women are victims of trafficking.
"There are no precise figures," said Zhejiang University sociology professor Feng Gang, adding: "It's likely that the proportion of forced marriages is not large."
Nonetheless, Chinese media regularly report cases of "runaway brides" who flee shortly after their weddings. Some will have simply changed their minds, and some are scams to defraud the men of the bride price, said Feng.
Some of the marriages clearly are voluntary. The men of Linqi have traveled for work to Vietnam, where Vu Thi Hong Thuy, 21, met her husband.
"We got to know each other, fell in love and got married," she said.
"In Vietnam ... we had to work hard, but we could not earn enough. Now I think life is better as only my husband works."
A host of "Vietnam dating" websites also fuels the trade, peppered with images of Vietnamese women advertised as "kind" and "obedient."
"We charge 3,000 yuan to arrange dates in Ho Chi Minh City, and if the two decide to get married, it's an extra 36,000 to arrange the wedding — including photographs," said a staff member at one site, declining to be named.
Many also offer replacements if the new bride escapes.
"If the female partner divorces or runs away within the first two months, we are responsible for finding another partner," she added.